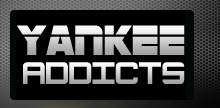 May 7, 2009 · Heartbeat Of The Bronx · Jump to comments
Article Source: Bleacher Report - New York Yankees
Steady and commanding rainfall attempted to halt the heartless nightmare of Yankees baseball on Wednesday night.
It almost appeared as though the dark sky was crying the tears of dejected Yankee gods, unable to stomach watching another inning packed with emptiness.
Before the imposing cloud cover got its wish, Yankees first baseman Mark Teixeira was seemingly able to revive a roster that had long since cashed in its chips. His bases-clearing double in the eighth inning tied the game at 3-3.
However, another bullpen cave-in and batter's box choke-job resulted in one more uncomfortable defeat, dropping the Yankees once again below the .500 mark.
As a result, the Yankees became the star in Rip Van Winkle: A Baseball Tale. The motion picture is about a weary ball club that suddenly slips into a comatose state. Worried spectators are left unsure of when—or if—its eyes will ever reopen.
After consulting a bevy of qualified baseball physicians, it is determined that brain activity is nominal, and the team's weak heart makes an ultimate prognosis more complicated.
The heart in question is now pumping at just half its capacity due to the removal of Paul O'Neill, Tino Martinez, and Bernie Williams from its moving parts.
Luckily for New York, its own vanity has stimulated the heart's other half to continue functioning. Doctors feel this phenomenon is the only thing preventing an irreversible flat-line.
New York begins to slip deeper and deeper into unconsciousness, following the departure of Jorge Posada to visit his own series of medical personnel.
The emotional and vocal leader of the clubhouse vanishes, and New York's heartbeat slows to an even more perilous 30 beats per minute.
Though nowhere near the breaking point required to "pull the plug," there is an indisputable need for daily monitoring and optimal care.
Requiring an expert opinion to help get a better grasp on the crisis, the Steinbrenners go to the only man they know to turn to in times of medical need.
They fly to Birmingham, Alabama, to visit Dr. James Andrews.
The Steinbrenners had Andrews's number on speed-dial after signing Carl Pavano to a four-year contract, so he is rather easy to get in contact with.
Andrews is busy analyzing the brain function of Dodgers slugger Manny Ramirez, as well as determining the chemical composition of his "doctor-prescribed medication."
After returning their call some time later, the two sides discuss every possibility resulting in a complete recovery. Andrews suggests an MRI at his world-renowned facilities, but the Steinbrenners fear what could be discovered.
At long last, Andrews supplies a six-month prescription for "bullpen competency," and a "clutch performance supplement" guaranteed to pass the MLB's drug prevention and treatment program.
In an effort to avoid spoiling the film's ending, I will pause the extended preview at this juncture. After all, the movie's conclusion could always be altered and transformed to reflect the happenings of the remainder of New York's season.
The Farrelly Brothers performed a similar correction to the ending of Fever Pitch after a historic Red Sox curse was lifted forever.
Let's hope New York can realize a restoration and recovery process equally as miraculous.
There is plenty of time remaining, as we only have reached May 7 on the 2009 calendar.
It is not time to panic, but I would suggest planning some summer vacations…just in case.
---
Also seen at: http://heartbeatofthebronx.blogspot.com/