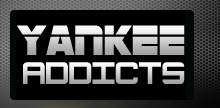 March 10, 2013 · Adam Wells · Jump to comments
Article Source: Bleacher Report - New York Yankees
For the first time in years, the New York Yankees enter a season not knowing exactly what they are going to get. You can say no one knows what they will get from a year-to-year basis in baseball, but this franchise has always defied normal logic.
When you think they are too old to do something, they put together a postseason run like they had in 2009 and win a World Series. When they have to rely on young players to win games, Robinson Cano gets called up and turns into one of the best players in baseball.
This season, however, appears to be the end of the line for the Yankees atop the American League East. Alex Rodriguez, Mark Teixeira and Curtis Granderson will all miss time at the start of the season, with A-Rod likely out until at least the All-Star break.
Derek Jeter is coming back from a broken ankle suffered in the American League Championship Series. Mariano Rivera, who announced he will retire at season's end, is coming back from a torn ACL after throwing just 8.1 innings in 2012.
All of this has made for a lot of fascinating discussion around what the Yankees will be in 2013, if they can compete with the other four teams in the American League East, and how much worse things can possibly get.
But it is still spring training. Teixeira and Granderson will return eventually. CC Sabathia and Hiroki Kuroda are still at the top of the rotation. The other teams will have to deal with injuries at some point, the Yankees' are just compounded because they happened so close to each other.
Here is an in-depth look at the Yankees' plans for spring training, including a look at the projected roster, starting lineup and results from each day's spring action leading up to the start of the regular season.