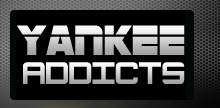 January 26, 2012 · Evan Haffner · Jump to comments
Article Source: Bleacher Report - New York Yankees
It's always easy to get caught up in all the sentimental hoopla when a beloved player retires or moves on.
There is no doubt that Jorge Posada is one of the most popular Yankees of our generation, and being one of the home-grown "core four" along with Derek Jeter, Mariano Rivera and Andy Pettitte makes him even more special in the eyes of Yankees fans.
But don't think with your heart instead of your head! Posada, an excellent player on the Yanks' championship run in the '90s, is NOT a future Hall of Famer.
Even the biggest Yankees shill, Michael Kay, said on his radio show earlier this week that he doubted whether Posada would ever garner enough votes to be enshrined in Cooperstown like Jeter and Rivera, who are slam-dunk first ballot Hall of Famers.
Let's look at the numbers first. His lifetime batting average is a respectable .273, but not even in the top 10 in the Yankees' storied history. Yes, he was a five-time All Star, but the highest he ever finished on an MVP ballot was third in 2003.
Which lead to my next argument against him for the Hall of Fame. Not only was he never one of the best players in baseball, I can point out that even in his best seasons, he was never even the best or second best player on the Yankees!
In 2003, when he finished with .281/30/101 numbers (incidentally, it was his only 100-plus RBI season), he was, at best, probably only the third-best player on the team. Rivera had perhaps his most dominating year as a closer, posting a minute ERA of 1.66 with 40 saves, and he actually missed the first month of the season with a groin injury. I could also make the case that both Jason Giambi and Hideki Matsui had better offensive seasons than Posada.
In 2007, probably his second-best year, both Jeter and Alex Rodriguez were more productive and were more valuable.
While I take into account that as a catcher you can't always measure greatness in statistics, I can compare him with Ted Simmons, another excellent catcher but not a Hall of Famer. Simmons, in 21 seasons, has a better lifetime average (.285), more homers, more RBIs and 800 more hits.
In addition, he was an eight-time All Star and was a much better fielding catcher with a better percentage of runners thrown out, too.
Unfortunately for Simmons, he only appeared on the Hall of Fame ballot once, netting an insane total of only 18 votes in 1994, thereby making him ineligible for future balloting since he didn't receive the necessary five percent to remain on the ballot. Now his only chance at enshrinement is via the 16-member Veterans Committee.
While Posada will be mentioned with great Yankee catchers such as Yogi Berra, Bill Dickey and Thurman Munson (who incidentally is also not a Hall of Famer!), he can take pride that that is still some pretty amazing company to be in.
Read more New York Yankees news on BleacherReport.com