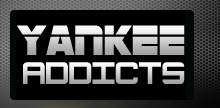 February 8, 2012 · Doug Rush · Jump to comments
Article Source: Bleacher Report - New York Yankees
The Yankees are about a week away from pitchers and catchers reporting in preparation for the 2012 season.
The only need that Yankees GM Brian Cashman is looking to fill is the designated hitter spot.
We've heard about their interest in former Yankees Johnny Damon and Hideki Matsui, as well as former Phillies outfielder, Raul Ibanez.
According to Dan Martin of the New York Post, on Wednesday the Yankees brought in a bat that could potentially help them in 2012, as they signed Russell Branyan to a minor-league deal.
Branyan will have a chance to come to spring training and win a roster spot on the Yankees.
Although the Yankees are signing Branyan, it does not deter the Yankees in their pursuit of Damon, Matsui or Ibanez for their DH spot.
Branyan split time in 2011 between the Diamondbacks and Angels, hitting 18 home runs and 41 RBI, but only hit for .197.
Branyan is a typical hit or miss type power hitter who strikes out a lot, but when he does connect the ball usually leaves the park.
Branyan could be a backup first basemen, as well as a candidate for DH when needed, assuming he makes the Yankees roster.
Branyan is the ultimate definition of a journeyman, playing on the Indians, Reds, Brewers, Rays, Padres, Phillies, Cardinals, back to the Brewers again, Mariners, Diamondbacks and Angels, totaling 10 different teams.
And if he makes the Yankees, that would be 11.
As a minor league deal, it's a low-risk with a high-reward for the Yankees. It is similar to the deals they made with Bartolo Colon and Freddy Garcia last year.
Branyan will now fall into the same category of getting a chance to make the team and if he doesn't, he gets released and could hook on with someone else.
But given that he's a power-hitting lefty whose swing could be useful for Yankee Stadium, Branyan could be a solid left-handed power option off the bench.
Earlier in the week, the Yankees did the same type of deal with Bill Hall. Hall could make the roster and push Ramiro Pena out of a job as a utility infielder.
I always felt the Yankees were at their best with a deep bench. In 2009, they had guys like Jerry Hairston, Jr. and Eric Hinske, plus Brett Gardner as the fourth outfielder, which really helped in their World Series run.
Back in the dynasty years, they had guys like Tim Raines, Daryl Strawberry and Chili Davis on the bench who were great to have to pinch hit or play twice a week when needed.
By bringing in guys like Branyan and Hall, it can only help their bench depth if they can be productive.
Now it all becomes a question if Branyan can actually make the roster.
Stay tuned, Yankees Universe.
Read more New York Yankees news on BleacherReport.com