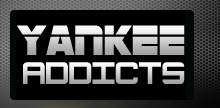 May 3, 2009 · Rob Abruzzese · Jump to comments
Article Source: Bleacher Report - New York Yankees
According to Chad Jennings of the Scranton Times-Tribune, the Yankees have signed 31-year-old left handed starter Casey Fossum to what I am assuming is a minor league contract.
"Casey Fossum will start Saturday's Scranton/Wilkes-Barre Yankees game. I don't have contract details or a corresponding move, but I know Fossum is the guy.

The 31-year-old lefty opened the season with Triple-A Buffalo, had a 0.82 ERA through two starts and was called up to the New York Mets on April 19. He allowed one run in three outings out of the Mets bullpen before being designated for assignment on Monday. Fossum has pitched in 237 major league games, 120 of them as a starter.

I believe — though I could be wrong here — that Fossum would have cleared waivers Thursday, meaning the Yankees did not have to claim him and put him on the 40-man. This would explain why I kept hearing that the team was legitimately uncertain on who would start Saturday's game."
Fossum started yesterday in Scranton and threw 3.2 innings allowing one run on two hits, two walks, and four strike outs.
Fossum has made nice career for him self as a mediocre pitcher. In a nine year career Fossum has a 40-53 record with a 5.45 ERA. He is probably most famous for being involved in a deal that sent Curt Schilling from Arizona to Boston right before 2004. The deal ended up being very lopsided in Boston's favor.
Don't expect Fossum to make much of an impact in the Bronx this summer. It is likely he was only signed to provide the Scranton Yankees with a veteran starter since they are now missing Phil Hughes (called up), Jason Johnson (labrum tear), and Ian Kennedy (numbness in fingers).
It is unlikely he would even be called up in a lefty reliever roll since they would first have to lose Demaso Marte, Phil Coke, and Michael Dunn before Fossum would get a turn.