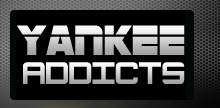 December 22, 2009 · Matt Trueblood · Jump to comments
Article Source: Bleacher Report - New York Yankees
When the Yankees traded for Atlanta starting pitcher Javier Vazquez early Tuesday, they quickly turned their attention to filling the one hole that apparently remains on their squad. Left field is still a question mark for the defending World Series champions, who sent their top in-house candidate, Melky Cabrera, to Atlanta in the Vazquez deal.
New York, however, has made it clear it intends to operate on a strict budget this winter, and if GM Brian Cashman sticks to that story, the team has little to spend on that mystery man.
It might be wiser, then, for the Yankees to look at another, more creative option. Currently, the team has two above-average defensive center fielders on its squad, in newly-acquired Curtis Granderson and young Brett Gardner. Granderson, at 29, is the presumptive starter at that position, and uses both power and speed to be an offensive threat, as well.
Gardner, however, is the better glove man. In fact, he plays some of the best defense in center field anywhere in baseball. He also has speed, though he lacks any hint of power.
Crucially, however, the Yankees have a very strong offense right now, without need of any additions. Newcomers Nick Johnson (.402 career OBP) and Granderson (.484 career slugging average and 67 steals in just four seasons) join an offense that already featured the American League's top two power hitters (Alex Rodriguez and Mark Teixeira) and best offensive middle infield (Derek Jeter and Robinson Cano).
Adding Vazquez only further lessens the team's need for offense: with CC Sabathia, Vazquez and A.J. Burnett atop their rotation, New York suddenly has a pitching staff only one step behind the rival Red Sox's triad of Josh Beckett, John Lackey and Jon Lester.
Therefore, New York would be well-advised to simply keep the left-field job in-house. Moving Granderson to left field, rather than center, could push him from slightly to significantly above average on defense.
Meanwhile, a full year of Gardner playing center would save the Yankees over 15 runs, relative to a league-average center fielder. Gardner is also roughly average at the plate, and could add speed from the ninth spot in the order.
With Gardner getting on and threatening to steal ahead of Granderson and Jeter, New York would have a second lead-off man at the bottom of the lineup and a seamless means of moving back into the heart of the order.
It could be the ideal arrangement, and since Gardner is not yet arbitration-eligible, he will continue to make little above the league minimum in 2010. That would help the Yankees stay under their self-imposed salary ceiling, and might be just as valuable as adding, say, Jermaine Dye. New York is well-positioned to repeat as champions in 2010, and adjusting the outfield to this format would help them stay that way.
Read more New York Yankees news on BleacherReport.com