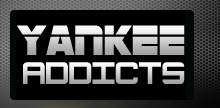 February 11, 2013 · Doug Rush · Jump to comments
Article Source: Bleacher Report - New York Yankees
After four months of no baseball, the Yankees will be back to business on Tuesday.
One of the topics that will be brought up in spring training will be the status of their center fielder.
Curtis Granderson's status with the Yankees has been a topic for discussion ever since the end of October.
After his 2013 option for $15 million was picked up shortly after the season ended for the Yankees, we've all wondered what the team wants to do with him.
Some have wondered if they could trade him before the July 31 deadline to get prospects back and we've all come up with possible trade scenarios.
The Yankees could simply let Granderson walk at the end of the season and let him sign elsewhere after 2013.
And it's something they could do, but honestly, what sense does that make in getting virtually nothing if he walks.
Or, the Yankees could look into extending Granderson either before or after the 2013 season.
The Yankees are looking to get under the $189 million mark for their payroll before 2014 and they also have to explore an extension for Robinson Cano as well, so Granderson's situation with the team is a little more complicated.
According to Dan Martin of the New York Post, Granderson has not heard from the Yankees regarding a possible extension, however, he is interested in one if they were to talk about it.
Would it make sense for the Yankees to look into an extension with the 31-year old?
Now, before I go into saying yes and hoping Brian Cashman gets him locked up for another three or four years, there are a few things that Granderson needs to do.
The first, is get the batting average up.
In 2012, he dropped 30 points from .262 in 2011 all the way down to .232 in 2012 and it seemed like at times, Granderson became an all-or-nothing type hitter
I think if Granderson works on the swing and focuses on using the entire field to get more doubles and triples instead of just home runs, his batting average would definitely go back up.
The next thing that needs to be worked on is the amount of strikeouts, which increased from 169 to 195 in 2012.
Granderson really had to start being more of a selective hitter and not chase anything that looks close or looks appealing to the eye, and cutting down on the strikeouts will also impact the batting average as well.
Now, back in October, the Yankees had Granderson go to an eye specialist to see if there was something wrong with his vision; which was declared 20/30 back in 2010.
If in fact it was Granderson's eye sight that was causing problems and altered his vision to the point where he couldn't see the ball clearly, then that could change everything if it gets fixed.
If Granderson can get all of these things taken care of and get back to the type of player he was in 2011, which was at the MVP level, then I am all for extending Granderson.
Right now, I'd say a three-year, $31.5 million extension would be a fair offer for a guy who is about to turn 32 in March and potentially could be shifted from center field to left field.
But throw in the fact that if Granderson does hit free agency, he'd likely still be a top target on the market given that the market in 2014 for left and center fielders isn't great.
So if the Yankees want to lock up Granderson and bring him back, they might want to consider doing it now before it's too late and he hits the open market.
Ultimately, I think the Yankees want to see if Granderson fixes the things that hampered him in 2012 before making any kind of commitment for the future.
Stay tuned, Yankees Universe.
Read more New York Yankees news on BleacherReport.com