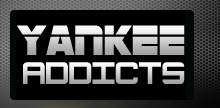 April 28, 2010 · Danielle Correa · Jump to comments
Article Source: Bleacher Report - New York Yankees
Last week, the NCAA's Football Issues Committee granted a four-year license to the New Era Pinstripe Bowl for 2010-2013.
This decision by the committee marks the first time that it has licensed a bowl on a four-year cycle instead of taking the traditional year-by-year route.
What better place to host these bowl games than in the pinstripe kingdom itself—Yankee Stadium.
The Yankees are extremely proud to offer the use of their home field to this event.
Yankees President Randy Levine stated, "Yankee Stadium was built to be a premier destination not only for baseball but for other exceptional and memorable events. The tradition of college football belongs in Yankee Stadium and New York City."
This Bowl game is scheduled to take place on December 30, 2010. It will be nationally televised by ESPN, which has also secured national and local radio rights for ESPN Radio.
In future years beyond 2010, games will take place no earlier than Christmas Day and no later than New Year's Day.
A four-year agreement extending through 2013 has been made for the Big East team with the third-best conference record and the Big 12 team with the sixth-best conference mark to participate in the New Era Pinstripe Bowl at Yankee Stadium.
Both participating teams, whomever they may be, will arrive in New York City several days before the bowl to take part in events prior to the game and to showcase their respective universities to the New York area.
Other promotions, events, and special offers will occur throughout the city to create a memorable experience for families and fans of the visiting teams.
This contest will mark the first NCAA football Bowl Game played in the Bronx since the Gotham Bowl in December 1962, at the original Yankee Stadium.
The Yankees will announce New Era Pinstripe Bowl ticket availability at a later date.
I have no doubt that these tickets will go fast—for crying out loud it's a football game at Yankee Stadium!
Read more New York Yankees news on BleacherReport.com