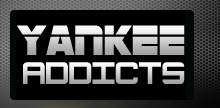 February 23, 2012 · Doug Rush · Jump to comments
Article Source: Bleacher Report - New York Yankees
UPDATE(12:25 a.m.): According to Jon Heyman of CBS Sports and WFAN, the talks between Martin and the Yankees never really got off the ground and will be re-visited during the season.
Yankees multiyear talks w/ martin never got off ground in winter, they'll revisit in season. Nyy would do $20M-3 yrs. Russell seeks raise

— Jon Heyman (@JonHeymanCBS) February 24, 2012
Heyman said the Yankees offered three years for $20 million, but Martin wants a raise from that offer.
—————————————
Pitchers and catchers have reported for spring training in preparation for the 2012 season.
The Yankees are thinking about extending their current catcher's contract into the future.
According to Andrew Marchand of ESPN, the Yankees and Russell Martin are talking about giving him a contract extension carrying through 2014.
It would re-work Martin's current deal and give him a new three-year deal to stay with the Yankees.
Martin, right now, is on a one-year deal worth $7.5 million and would be a free agent after the season.
Martin's agent, Martin Colleran, knows that the Yankees are trying to get their payroll under $189 million by 2014, and said they would be flexible with their budget constraints.
The 29-year-old hit .237 with 18 home runs and 65 RBI in his first year with the Yankees taking over for long-time catcher Jorge Posada, who got moved to the designated hitter spot last year.
Martin spent the first five years of his career with the Los Angeles Dodgers, but his 2010 season was cut short due to injuries. He played in only 97 games and the Dodgers didn't bring him back in 2011.
After announcing that Posada was transitioning to the DH role, the Yankees took a chance on Martin with a one-year deal worth $4 million. And he really did a tremendous job as the Yankees catcher especially on the defensive side and handling the pitching staff.
With how the Yankees current catching situation is right now, they should give Martin the extension.
He's in the prime of his career and showed last season he could handle playing in New York.
They have Francisco Cervelli as their backup catcher with prospect Austin Romine next in line, but neither, at least right now, would be the full-time starter.
Jesus Montero was slated to potentially be the next full-time catcher, but he was shipped off to the Mariners in exchange for Michael Pineda ending the Montero experiment, before it began, in the Bronx.
After Romine, there is Gary Sanchez and J.R. Murphy, but they are several years away from being on the major league level.
That means Martin is the right-now catcher for the Yankees, and he's their catcher for the next couple of years pending on if they sign him.
With Martin just reporting to spring training, Marchand said that Colleran hoped he and Yankees General Manager Brian Cashman could hammer out a deal before the season.
Jack Curry of the YES Network said that Cashman submitted a proposal to Martin and Colleran, but it was one that Cashman felt they wouldn't immediately like.
If the Yankees can work out a deal with Martin before the regular season starts, it would benefit both sides and they won't have to enter the 2012-2013 offseason wondering about their catching situation.
Martin went on record saying he wants to stay in New York saying he loves the team, the city, the organization and everything about it.
To me, he sounds like he wants to be a Yankee; something fans love to hear from their players. And I think bringing Martin back could be a very easy process as long as Cashman gives what Martin and Colleran a fair offer.
But like I said before, the Yankees should lock Martin up as soon as possible and resolve this contract situation before it becomes a problem.
Stay tuned, Yankees Universe.
Read more New York Yankees news on BleacherReport.com