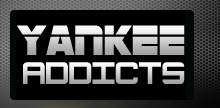 December 4, 2012 · Jake Singer · Jump to comments
Article Source: Bleacher Report - New York Yankees
Free agency is a double-edged sword for major league teams. On the one hand they make it possible for a team to make major improvements from one season to the next without having to trade top prospects, but on the other hand the top free agents tend to be very expensive and are often paid more for past performance than for potential future performance.
This offseason, the Yankees are trying to improve a team with several needs but a limited budget, having committed themselves to get their payroll under $189 million by 2014. They won't take signing one of the key free agents on the market this year lightly, so here are the pros and cons of signing each one.
Michael Bourn
Pros: This 29-year-old outfielder doesn't have the flashiest statistics, but he's a solid all-around outfielder who put up a 6.4 WAR (according to FanGraphs) in 2012 because he does so much. His .348 on-base percentage was above average, he stole 42 bases and legged out 10 triples and plays a very good center field. He's also still relatively young for a free agent and probably has another couple of peak years left.
He could also fit in well with the Yankees' outfield, where he would likely be put in center field, moving Curtis Granderson. The team needs an outfielder, and he would play good defense while adding a small-ball hitter to the lineup.
Cons: He doesn't have much power, which helps to explain his .704 career OPS. He's also likely to ask for a contract around the five-year, $75 million contract B.J. Upton just signed with the Braves. The Yankees probably wouldn't want to give that much to Bourn, who would certainly help the club but would be considered more of a luxury than a necessity. If not for the money, the Yankees would probably be courting him right now.
Shane Victorino
Pros: The Yankees are in the market for a right fielder and the Flying Hawaiian is one of the best on the market. Despite a poor 2012 in time split between the Phillies and the Dodgers, Victorino has been a solid all-around outfielder for several years and has been an above-average hitter with runners in scoring position throughout his career, which is something the Yankees need to improve on.
Cons: Really, the price tag on Victorino just doesn't make sense for the Yankees. He is reportedly seeking a three-year, $30 million deal. The Yankees already don't want to give out long-term deals to free agents because of their self-imposed salary cap, but even without that, is Victorino really that much of an upgrade over Ichiro Suzuki, who wants to return to the Yankees and could probably be had on a one-year deal? I don't think so.
Pros: After showering Swisher with love for two-and-a-half seasons, Yankee fans have soured on Swisher over the last several months. Swisher injected life into the Yankees locker room when he arrived in 2009 and is known for his jovial and fun-loving personality, but fans grew impatient when he struggled in the playoffs, going 5-for-30 in 2012. He has a career .169 average in the playoffs with most of his at-bats coming in pinstripes. But he's still a good outfielder who has an .828 career OPS and hit 24 home runs in 2012. He's a good outfielder, and I think that in a perfect world the Yankees would want him back.
Cons: But then there's the problem with the $189 million payroll by 2014. Swisher would likely earn himself a contract of four years and around $60 million. That makes him hard to fit into the Yankees' payroll that is already bloated and will probably add a large contract to Robinson Cano sometime in the next year. Swisher just doesn't fit into the Yankees' roster at this point.
Zack Greinke
Pros: Greinke is unquestionably the best free agent pitcher available, and even though the Yankees have C.C. Sabathia, Hiroki Kuroda, Andy Pettitte and Phil Hughes locked into the rotation for 2013, what team couldn't use a front-line starting pitcher?
Cons; But there are two major cons. First, Greinke's history of depression and anxiety does not need repeating, and there's no telling how he might handle pitching in baseball's toughest media market. If he signed with the Yankees and got lit up in his first Yankee Stadium start, he'd be booed immediately. No one knows how he would respond. And then there's the salary he will command, which could be the highest for a pitcher in baseball history because of the Dodgers' rumored interest in the right-hander.
Josh Hamilton
Pros: Remember the 2008 Home Run Derby at the old Yankee Stadium? That's the pro. Hamilton is one of the best natural hitters in the game and is capable of hitting a home run every time he steps to the plate. He hit a career-high 43 this season and would immediately become the team's best power hitter.
Cons: But like Greinke, Hamilton's off-field issues make him a high-risk signing. His alcohol and drug histories are legitimate concerns for a team making an investment in him, and he's also had injury problems during his career (only twice has he played more than 133 games). For a contract with an AAV (average annual value) likely to be $20 million or above, Hamilton is as risky as they get.
Many Yankees fans will be disappointed to read this, but I don't think the team will make a big splash in free agency this offseason. They really do seem to be cutting back on their spending, and even if they were willing to open the purse strings, this year's free agent class just doesn't have many appealing options. Brian Cashman will reinforce the team with one-year deals, like those for Hiroki Kuroda, Mariano Rivera and Andy Pettite and perhaps a minor trade or two.
Read more New York Yankees news on BleacherReport.com