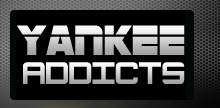 January 18, 2012 · Ken DeJohn · Jump to comments
Article Source: Bleacher Report - New York Yankees
Brian Cashman was nothing but patient in the early goings of the 2011-2012 offseason, and for good reason. Opposing general managers were asking for enormous returns for their ace starters.
Cashman thought it wise to hold on to his prized pitching prospects, Manny Banuelos and Dellin Betances, when asked for them in deals regarding John Danks, Gio Gonzalez and Matt Garza.
For all Yankees fans knew, Cashman seemed perfectly content heading into the season with a rotation similar to last season's makeshift one. CC Sabathia and Ivan Nova would headline the rotation, with an inconsistent Phil Hughes in the third slot and the shaky AJ Burnett and Freddy Garcia rounding out the starting five.
Then, out of nowhere, Cashman agreed to a blockbuster deal with Seattle to obtain rookie sensation Michael Pineda, along with prospect Jose Campos, for super prospect Jesus Montero and right-hander Hector Noesi.
As if that wasn't enough, Cashman then went out and agreed to a one-year, $10 million deal with veteran Hiroki Kuroda.
The Yankees rotation, once a huge question mark, now appears to be a relative strength heading into the 2012 season. Here's how I believe it will shape up.