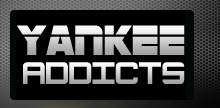 December 9, 2011 · Alex Schuhart · Jump to comments
Article Source: Bleacher Report - New York Yankees
In order to make room on the 40-man roster for two minor leaguers acquired in the Rule 5 draft, the New York Yankees have released outfielder Greg Golson.
The minor leaguers are pitchers Brad Meyers (formerly of the Washington Nationals organization) and Cesar Cabral (formerly of the Boston Red Sox organization).
The speedy Golson, a former first-round draft pick, spent most of 2011 with the Yankees' Triple-A affiliate, the Scranton/Wilkes-Barre Yankees. He hit .263 with eight home runs and 15 stolen bases in 105 games. He also appeared in nine games at the major league level, hitting .182 in 11 at-bats.
The defensively versatile 26-year-old joined the Yankees' system in 2010 after previously playing for the Philadelphia Phillies and Texas Rangers. He spent most of his first season in the organization with Scranton/Wilkes-Barre as well.
The athletic career minor leaguer has appeared in 40 big league games since his 2008 big league debut, hitting .195 in 41 at-bats.
It is possible that he may return to the Yankees system on a minor league contract.
In his stead on the roster are Meyers and Cabral, two intriguing young prospects.
The right-handed Meyers, 26, pitched at three minor league levels last year and went a combined 9-7 with a 3.18 ERA. Though not a strikeout pitcher, he does whiff his share of batters, averaging 7.5 Ks per nine innings throughout his career.
One cause for concern is his high hits allowed total—he allowed more than one hit per inning in 2008 and 2010. He counters that disagreeable trait with a tidy career ERA of 2.86.
The southpaw Cabral, 22—who was initially taken by the Kansas City Royals and then traded to the Yankees—pitched in the low- and mid-minors last season, going 3-4 with a 2.95 ERA in 36 relief appearances.
He, too, allowed more than a hit per inning. However, his 70 strikeouts in 55 frames is intriguing.
To remain in the Yankees system, both pitchers must stay on the team's 25-man roster all season long. If they do not, they must be offered back to their respective former clubs.
In other news, the Yankees won the right to negotiate with Japanese shortstop Hiroyuki Nakajima. The promising 28-year-old may decide to remain in Japan if the Yankees' offer does not suit him.
Read more New York Yankees news on BleacherReport.com