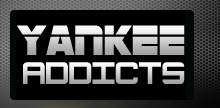 March 5, 2012 · Joe Acampado · Jump to comments
Article Source: Bleacher Report - New York Yankees
Spring training is fully underway, with the first batch of games being played over the weekend. Every spring training has that surprise player that'll turn heads and get the Sportscenter guys and gals talking.
Of course, spring training isn't just about that. It's also about the guys fighting for that last spot, showing why they deserve to be a midseason or September call-up, proving they've still got what it takes to play in the majors.
The New York Yankees have new guys joining the starting rotation, a couple of kids looking to crack the rotation in a couple of years and some old guys trying to bounce back from sub-par years. There's also the guys who know they won't break camp with the team, but are still looking to impress somebody out there.
Things always get interesting during spring training, as it's the first time we're seeing these guys since last September/October. The Yankees have a couple of storylines of their own that'll play out during March. Here are the 10 most intriguing names to watch during spring training in descending order.