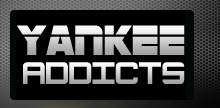 October 25, 2010 · james stewart-meudt · Jump to comments
Article Source: Bleacher Report - New York Yankees
Now that the New York Yankees' dreams of a World Series repeat have ended, they enter the most uncertain postseason in recent memory. When they got on the bus at their hotel in Arlington, Texas, it wasn't taking them to Game 7. It was taking them home to face questions not about why they lost, but what they're going to do now.
In losing to the Texas Rangers, the "core four" looked old and now the Yankees have a lot of big decisions to make. They need to decide who is coming back. Derek Jeter and Mariano Rivera could become free agents. Andy Pettitte, who pitched better than perhaps most people expected him to in the postseason, could retire. Just imagine (and before I go any further, let me just say I don't actually think this would ever happen), if all three of those names weren't on the Yankees' Opening Day roster for 2011?
Forget about Pettitte's questions about retirement. If he does, he does. If he doesn't, he'll be a Yankee. Joe Girardi isn't signed past this year, but both Girardi himself and Yankee brass have made it clear they want him back.
Rivera pitched just as well as he ever has during the regular season and even though there are younger closers available on the free agent market, the Yankees probably wont be making any changes.
The biggest question revolves around Derek Jeter, because what the Yankees choose to do with Derek Jeter has a ripple affect on the rest of their ball club. Make no mistake, Derek Jeter is going to be a Yankee for the rest of his career. Jeter is going to get his 3,000th career hit next season and he's going to do it in a Yankee uniform (the merchandise itself will pay for Jeter next season). So going on that fact, what will the Yankees do with Jeter once they've resigned him?
Many scouts around baseball have made public statements regarding Jeter's range and defensive abilities at shortstop. He hasn't been able to get to the balls in the hole as quickly and isn't much of a stolen base threat any longer. Alex Rodriguez, Jeter's battery mate on the left side of the infield, still has that surgically repaired hip to worry about. So the Yankees have a choice to make. They can either let Jeter and A-Rod grow old together in the infield and let their defense suffer for it, or make a change.
You could move Jeter to the outfield, but then what? If the Yankees go with Brett Gardner in center field next season, an outfield of Jeter, Gardner and Curtis Granderson won't produce much power. So do you deal Gardner? Jayson Werth needs to be on the Yankees' radar during the offseason for this very reason.
A-Rod had a monster year when you consider he barely cracked the 500 at-bat mark (522). He hit 30 home runs and drove in 127 runs. If you could convince Rodriguez to take a spot as the full time designated hitter, it could save his hip the stress and allow the Yankees to bring in some youth at third base. Or bring in some youth at shortstop by moving Jeter to third base and A-Rod to DH.
Now how the Yankees bring in this youth is another question. Gardner could be a trade chip, depending on what the Yankees do in the free agent market (Werth, Carl Crawford), and so could Nick Swisher.
Don't forget, the Yankees have one of the top prospects in baseball in Jesus Montero waiting in the wings. The Yankees need to give him a look during spring training and plenty of Yankees fans have called out Jorge Posada for looking weak both at the plate and behind it. It might be time to make a change there as well.
Make no mistake, this is going to be one of the most interesting offseasons for the New York Yankees. Of course they have the money to bring in the top players. But how much money are they going to have once Jeter and Rivera have worked out their contracts? Are the Yankees willing to make the changes needed to get younger? Are they willing to part with some big names to get to where they want to be? These are the questions. These are the issues facing the Yankees, and only time will tell where they go from here.
Read more New York Yankees news on BleacherReport.com