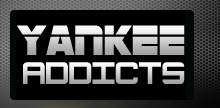 February 25, 2013 · Ryan Clutter · Jump to comments
Article Source: Bleacher Report - New York Yankees
The New York Yankees aren't known for developing prospects. Through the last decade, they've been more known for throwing money at some of the top free agents on the market.
Now, the team is trying to get under the $189 million tax threshold. To do so, it's going to need to polish young players through its system.
Many are quick to discredit the Yankees farm system, but they seem to forget the players who are "home grown." Players like Derek Jeter, Robinson Cano, Mariano Rivera, Brett Gardner, Andy Pettitte, Phil Hughes, Joba Chamberlain and David Robertson were all developed through the Yankees.
Even more players were shipped out and are contributing on other big league rosters.
Today, there are some prospects who will eventually make an impact at the big league level. Some may come this year; some may be a few years away. Regardless, there's going to be players to keep an eye on during spring training.
Now, with Curtis Granderson out until May, some outfield prospects will get an extended look.
Let's see some of the Yankees prospects to keep an eye on this spring.