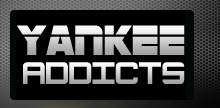 March 28, 2010 · Greg Fertel · Jump to comments
Article Source: Bleacher Report - New York Yankees
Zach McAllister was born on Dec. 8, 1987 and grew up in the town of Chillicothe in Illinois. He was drafted out of high school by the New York Yankees in the third round of the 2006 draft. When drafted, McAllister's size stood out.
The guy is just built like a starting pitcher. He stands 6'6″ tall and weighs 230 pounds, although his weight has fluctuated since becoming a member of the Yankees organization.
Because of his size and pitcher's build, he immediately drew comparisons to Phil Hughes, the Yankees top pitching prospect at the time. Because of his repertoire, he also was compared to Jeff Marquez, one of the team's better prospects at the time, but obviously nowhere near as good as Hughes. This was always a more reasonable comparison.
After signing for $368,000, McAllister got into game action pitching mainly in relief for the GCL Yankees. Over 35 innings, McAllister allowed 35 hits, walked 12 batters, struck out 28 and pitched to an ERA of 3.09.
The showing was impressive and made McAllister a guy to watch. The hopes were, at the time, that his build would allow him to add some more velocity and become the type of prospect who had ace potential.
At just 19 years old, McAllister started the season in extended spring training to work on adding some more pitches. Instead of just throwing a two-seam fastball and changeup, the Yankees wanted him to work on his four-seam fastball and slider while also trying out a curveball. The curveball didn't work out too well and McAllister has since scrapped the pitch.
He didn't get to pitching in competitive games again until the New York-Penn League season began. Things didn't go as planned and McAllister struggled a little bit for Staten Island. His ERA stood at 5.17 over 71.1 innings but his peripheral numbers were actually quite solid. He struck out what is still a career-high 9.5 batters per nine innings and only walked 3.5 per nine.
He gave up only three home runs, so that wasn't the problem either. On balls in play, batters hit a whopping .370 against him. He could have just been throwing meatballs over the plate, but given his strikeout rate, that is doubtful. It is much more likely that some bad luck played into McAllister's rough season. It also could have just been a sign of fatigue, as McAllister especially struggled down the stretch for Staten Island.
The struggles McAllister had in 2007 would not repeat themselves in 2008 or in 2009. While scouts are not too high on McAllister, his results are hard to argue with. The guy has dominated the competition over the past two seasons as he has breezed through Single-A and Double-A.
The velocity that the Yankees had hoped McAllister would gain never came to be, which is why scouts' opinions on him aren't too optimistic. I think McAllister is a known entity at this point.
If he remains healthy (he had some arm fatigue last season), he will reach the majors no later than 2011. Most people don't see him as much more than a back-end starter, but my hopes remain high until I see some sort of failure from him.
McAllister primarily works off of his sinking two-seam fastball. With it, he breaks a ton of bats and gets a ton of ground balls. Reports on his velocity differ. Near the end of last season, Baseball America reported that he wasn't even reaching 90 with his four-seamer. Contrary to that, I've heard that his four-seamer hit upwards of 93 at certain points this season. I'd say that he needs his two-seam fastball to come in at 89-91 for it to be successful in the majors.
Besides his two fastballs, McAllister also throws a changeup and slider. Neither of them is a great strikeout pitch, but McAllister has always maintained solid enough strikeout rates in the minors, never posting a rate of less than 6.9 per nine innings. You won't see much hype surrounding McAllister, but I think he currently stands as the team's best pitching prospect.
McAllister will spend the bulk of the 2010 season pitching for Triple-A Scranton, and I think it's extremely unlikely that we see him in the Bronx before September. He is not currently on the 40-man roster and would need multiple injuries to see time in the Bronx.
This season will be a good year for McAllister to continue to prove doubters wrong. It will be much harder for them to argue against his success in Triple-A at just 21 years old. While he'll never be a front-of-the-rotation starter, it is extremely likely that McAllister will provide value to a major league team, whether it be the Yankees or another team.
Find other great content and more prospect profiles at Pending Pinstripes .
Read more New York Yankees news on BleacherReport.com