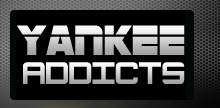 January 7, 2013 · Colin Tansits · Jump to comments
Article Source: Bleacher Report - New York Yankees
As the new year begins, the Yankees will be heading into spring training in search for that elusive 28th World Series championship.
But for the most part, the 2013 Bronx Bombers will look strikingly similar to the 2012 team.
The Yankees lost Russell Martin, Nick Swisher and postseason hero Raul Ibanez all to free agency, and brought in former Red Sox third baseman Kevin Youkilis.
New York's biggest moves (sadly) was re-signing both Hiroki Kuroda and Andy Pettitte.
So what will the new 2013 Yankee lineup look like?
The starting lineup on Opening Day most likely will be a group of older veterans, many of who are either past or towards the end of their prime.
New York's rotation though, may be a little less gloomy.