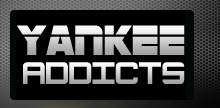 February 23, 2012 · Brian Buckley · Jump to comments
Article Source: Bleacher Report - New York Yankees
On August 7, 2007, he appeared in his first contest, surrendering no runs in two innings of work against the Blue Jays. For the rest of the regular season, he only allowed a solitary run for the Yankees.
Running out of the Yankee bullpen and into our television sets, Joba Chamberlain germinated from an unfledged rookie to baseball royalty all in the span of a New York minute.
However, the honeymoon came to an end soon after. Some say the hoopla expired after the midges feasted on the reliever during work hours in Cleveland. Others might confide the feel-good story was deflowered amidst the back and forth experiment of starter or reliever. Anyway it's sliced, the Joba hype machine suffered an unpleasant death, and 2011 was the coup de grace.
After suffering a season-ending elbow injury in 2011, which resulted in Tommy John surgery, Chamberlain hopes to factor into the Yankees plans sometime in June. But, what can we really expect from the 26-year-old who has experienced so many high and lows in his short tenure?