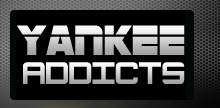 January 18, 2013 · Stephen Skinner · Jump to comments
Article Source: Bleacher Report - New York Yankees
Many believe that the New York Yankees will be relieved of their spot on top of the AL East division by the Toronto Blue Jays in 2013, but a look at the roster reveals some possible hidden gems ready to be found in the upcoming season.
The Blue Jays have been aggressive this offseason in revamping their look at the plate and on the mound with acquisitions like Jose Reyes, R.A. Dickey, Mark Buehrle, Melky Cabrera and Josh Johnson.
At the same time, Yankees GM Brian Cashman has been relatively quiet in keeping things status quo in New York. To date, his biggest splashes were in signing third baseman Kevin Youkilis to man the hot corner while Alex Rodriguez recuperates from hip surgery, and bringing back the ever-popular Ichiro Suzuki to play right field.
It's easy to admire what the Blue Jays have done, but keep in mind they brought in a number of players that will be new to American League style of play. Toronto's fate lies in those calculated risks.
The Yankees, on the other hand, know what they are getting. While critics are more than happy to point out the advancing age of the team, there are still four players poised for career years in 2013. Each of them may prove to be the deciding factor in ensuring that the Yankees remain active participants in mid- to late October.