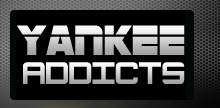 February 27, 2013 · Matt Barbato · Jump to comments
Article Source: Bleacher Report - New York Yankees
The New York Yankees had another great season in 2012, winning 95 games and clinching its second straight AL East division title. The season came crashing down as the Yankees were swept out of the postseason by Detroit in the ALCS and scored only 22 runs in nine playoff games.
The combination of a lackluster offseason and injuries suffered by Derek Jeter, Mariano Rivera and, most recently, Curtis Granderson, the 2013 Yankees' postseason chances are not as strong as they have been in past seasons.
Here is a spring training report recapping the Yankees' offseason activity and a preview of what to expect from the Bronx Bombers in 2013.
Offseason Recap
The 2012-13 offseason was a quiet one for general manager Brian Cashman. The offseason dormancy was, in part, due to owner Hal Steinbrenner's command to keep the payroll under $189 million in order to cut back on luxury tax fees.
The Yankees offseason was characterized more by departures than acquisitions. The Yankees lost right-fielder Nick Swisher (Cleveland), catcher Russell Martin (Pittsburgh) and closer Rafael Soriano (Washington) in free-agency. The Yankees will lose a combined 45 home runs from Swisher and Martin and 42 saves from Soriano, according to ESPN statistics.
The Yankees' offseason acquisitions were nothing special. Most notably, the team signed outfielders Juan Rivera and Matt Diaz along with designated hitter Travis Hafner and third baseman Kevin Youkilis.
Juan Rivera played in 109 games for the Dodgers, hitting nine home runs and 47 RBIs. According to Fan Graphs, Rivera only hit .245 on balls hit in play and had a .131 isolated power rating. Rivera had a .985 fielding percentage but a UZR of -4.8. Rivera is 34 years old and is out of his prime, but he could be a decent backup outfielder and occasional designated hitter.
Matt Diaz played only 51 games for the Atlanta Braves last season after a right thumb injury shut him down for the final six weeks of the season. According to Fan Graphs, Diaz hit only two homers last season, adding to his 43 career home runs. Diaz tends to strike out in about 20 percent of his at-bats and had a .256 BABIP. Diaz has struggled in his first two spring training games, but with Granderson out for 10 weeks, he could see some playing time in left field.
Travis Hafner has played in 160 games since 2010 and only 66 games last season. Hafner will most likely be the Yankees' DH on opening day and is primarily known as a power hitter. Hafner has a career .507 slugging percentage and a .229 career ISO, according to Fan Graphs. If Hafner can stay healthy, he could make up for some of the home runs the Yankees lost during the offseason.
Kevin Youkilis was arguably Cashman's biggest acquisition. Youkilis had one of the worst seasons of his career and was traded from Boston to the Chicago White Sox. Youkilis played slightly better in Chicago, hitting 15 home runs and driving in 46 runs. He is known for his plate discipline and should draw a walk in at least 10 percent of his at-bats. If Youkilis can stay healthy, he could be a decent replacement for Alex Rodriguez at third base.
Offense
The 2012 Yankees were truly the Bronx Bombers. The Yanks mashed a league high 245 home runs, a franchise record, and scored 804 runs. But this season, the Yankees might have to find different ways to manufacture runs.
The Yankees will have a full season of Brett Gardner and Ichiro Suzuki in the lineup, which will add an element of speed that the Yankees desperately needed. According to ESPN statistics, the Yankees ranked 22nd in the league with 93 stolen bases last season. Although the home run totals might decrease, the Yankees will have two lethal weapons on the base paths.
Robinson Cano has emerged as the best hitter on the Yankees, if not in the entire league. According to Fan Graphs, Cano hit a career-high 33 home runs and had a gaudy .929 OPS. Expect Cano to have the strongest season of his career as he tries to earn a long-term contract with the Yankees.
Mark Teixeira needs to have a better 2013 season. According to Fan Graphs, Teixeira's on-base percentage was .332, his lowest since his rookie season. His .475 slugging percentage was also his lowest since joining the Yankees in 2009. Teixeira is still a very good power hitter, and his production in 2013 will be important to New York's AL East title hopes.
Pitching Rotation
New York's pitching rotation performed surprisingly well last season, ranking twelfth in the majors with a 3.85 ERA. CC Sabathia was rock-solid, posting a 15-6 record and a 3.38 ERA. According to Fan Graphs, Sabathia did suffer a significant increase in his home run to fly ball ratio (12.5%),which resulted in a 0.99 HR/9 rating. Sabathia should once again be the workhorse of the Yankees' rotation as long as he can stay healthy.
Hiroki Kuroda provided the biggest boost to the rotation. Kuroda won 16 games and posted a 3.32 ERA. Kuroda stepped up when the team was without Sabathia and earned a one-year extension worth $15 million. Kuroda and Sabathia could be a wonderful duo at the top of New York's rotation.
Phil Hughes was able to stay healthy for the entire 2012 season and had a decent 16-win season. Hughes is a notorious fly-ball pitcher and, according to Fan Graphs, Hughes had a 32.4 ground ball percentage—one of the lowest in the league. Hughes still hasn't thrown at spring training due to a back injury and may not be ready by opening day. Although his 2012 season was encouraging, the Yankees still need to see more progression out of Hughes in 2013.
Ivan Nova had a disappointing 2012 season. Nova went 12-8 with an ERA just over five. According to Fan Graphs, Nova allowed a .331 BABIP and almost doubled his HR/FB ratio to 16.6 percent. Nova will have to show improvement early in the year, or else he could be replaced by David Phelps or Michael Pineda.
Bullpen
The Yankees' bullpen was one of the strongest in the league even without Mariano Rivera for much of the season. Rafael Soriano filled in nicely as the closer, saving 42 games. Soriano has since departed in free agency to Washington and Rivera returns as the closer after tearing his ACL in May.
Setup man David Robertson wasn't as dominant as he was two seasons ago, but he still had a pretty good season. According to Fan Graphs, Robertson had a 2.67 ERA, but his HR/FB ratio rose from 2.3 percent in 2011 to 9.6 percent in 2012. If Rivera struggles, Joe Girardi could give Robertson a shot at closing if he pitches well.
The biggest strength of the Yankees' bullpen is its depth. Boone Logan is a solid lefty specialist who allowed an OBP of .293 to left-handed hitters. Joba Chamberlain finished the season strong with a 2.03 ERA and allowed a .200 batting average to opposing hitters in September and October. If David Aardsma can make a productive return from Tommy John surgery, the Yankees could have the deepest bullpen in the league.
The 2013 New York Yankees will need a lot to go right for them if they want to repeat their success from a season ago. If Hughes, Nova and Andy Pettitte are strong, the Yankees could be a team characterized by great pitching, not a potent offense. The aging Yankees still have a good team, but they will need to find different ways to win if they want to make the playoffs.
Read more New York Yankees news on BleacherReport.com