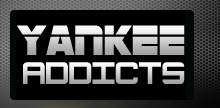 October 30, 2010 · NY Sports Digest · Jump to comments
Article Source: Bleacher Report - New York Yankees
OK Yankee fans. No more thoughts about the loss. The time for looking forward is now. We've already discussed Girardi's fresh new contract, as well as looked at some of the players YOU want gone and the main reason why Cliff Lee won't be allowed to come to New York.
But we know you need to move on, and trust us, we do to. So, to help us start thinking about our 2011 New York Yankees, we sat down with MLB Pitch Effects Auditor Stephen Florival to talk about some of the biggest questions still spinning the heads of Yankee fans.
Was the 2010 NYY season a success?
Steph: Normally championship or failure is the status quo in Yankee land, however the 2010 season was a failure for other reasons. The manner in which Texas ousted the pinstripes was alarming. The Yankees were thoroughly out-pitched and out-hit and also looked the part of an old, worn down team. Many of the team's issues could be credited back to a lackluster offseason, which included acquiring first baseman Nick Johnson and Starting Pitcher Javier Vazquez as key cogs for a defending champ.
With A-Rod and DJ in their late-30s, how defensively sound is the left side of the Yankees infield in 2011?
Steph: Just a year ago the Yankees were statistically the best defensive infield in baseball. Alex Rodriguez still shows flashes of an above-average to good glove at the hot corner, however Jeter's skills have quickly eroded at the age of 36. 2009 was a revelation year for the Captain, as he spent all offseason to recreate himself as a defensive shortstop. At this point of his career, you wonder if he can possibly reinvent himself again with the lack of tread on his tires. His range is severely limited and pales in comparison to average defensive shortstops in baseball.
What length contract does Mariano get? Is that a good thing or a bad thing?
Steph: Mariano Rivera continues to dominate baseball with one pitch and will be the ripe age of 41 on Opening Day 2011. Mariano figures to receive a two to three-year deal with an annual salary similar to his 2010 figure of $15 mil per year. If Rivera were to fall off, the Yankees figure to still have a manageable closer. In today's baseball, that probably equals the contract Rivera appears to be heading towards.
Does Andy Pettitte come back? Is that a good thing or a bad thing?
Steph: My prediction is we have seen the last of Andy Pettitte in pinstripes. Midway through July, Pettitte was having a renaissance year. A sub-3 ERA, 11-plus wins and an All-Star caliber year at age 38. A groin injury sidelined him for a couple months and after the playoffs Manager Joe Girardi revealed that Pettitte battled leg and back injuries in the postseason.
When asked about his future plans following the Yanks season ending loss, Pettitte responded, "I wish I could tell you." Well I'm telling you all that Pettitte's career has come to an end, and I am correct then the Yankees will greatly miss his big game experience, veteran leadership and stability. Should Pettitte retire, the winner clearly is Cliff Lee, as the Yankees would be desperate for starting pitching. Which brings up the question…
What happens if the Yankees can't sign Cliff Lee?
Steph: Paired with Andy Pettitte retiring, this would be a nightmare scenario for the Yankees. The Yanks would have a rotation of Sabathia, Burnett, Hughes and not much else. The Yankees will undoubtedly offer Lee more money than anyone else by a wide margin.
However, let's say Lee is infatuated by the young vibrant Texas Ranger clubhouse and accepts a lesser deal to play in a place he loves. The drop-off from there is dramatic. The Royals have stated they will entertain offers for Zach Greinke, but you wonder if a person who suffered from social anxiety disorder just a couple years ago will fit in the media mad house of New York. The free agent pitching market doesn't bear much other rich fruit as its top prize. Beyond Lee, the top starters available will be Bronson Arroyo, Jon Garland and Hiroki Kuroda.
Was 2010 a hiccup or a trend for Derek Jeter's offense?
Steph: 2010 featured Jeter's season career lows in batting average, on-base percentage and slugging percentage. He hit 44 points below his career average. The answer lies between Jeter's 2010 output and the production from years of past. Derek Jeter has visibly lost bat speed and his trademark inside-out opposite field hitting has made infrequent appearances. Experts ripped Jeter's defense in 2008, and the next year he followed a below average defensive year with a Gold Glove-caliber year. Naysayers will predict doom and gloom this offseason which will fuel the Yankee Captain to return as close to form as possible at his age.
Will we ever see the 2007 Joba again?
Steph: In a word, no. The mystique and intimidation factor has dissipated, and Joba's fastball lacks the extra giddy-up of when he first came on the scene. He started 2010 as the Yankees setup man. He finished as arguably the Yankees third or fourth choice in relief.
Does Posada play more games at C or DH in 2011?
Steph: At this point of his career, Jorge Posada is best served as a DH who catches in the range of 40-60 games a year. Teams such as the Rangers and Rays knew they could run all day on Posada, and the defensive skills which were average in his prime have eroded to below mediocre. Posada is more valuable to the Yankees as a borderline full-time DH to keep his bat fresh.
Is Joe Girardi the right guy for this team?
Steph: Girardi proved in 2009 he can handle the New York spotlight and push the right buttons for October success. As critical as Yankees fans may be of Girardi, with the lack of timely hitting, and inconsistent quality starting pitching, the 2010 Yankees would not have won with Casey Stengel managing.
What changes do you expect for the 2011 Yankees?
Steph: Cliff Lee is the headline name for the Yankees. A rotation topped by Lee and Sabathia will make the Yankees clear cut winners this off-season. A name to keep an eye on is Yankees minor league catcher Jesus Montero. He's regarded as a top-10 prospect in baseball. He hits for average and features a powerful bat. But at 6'4", his size and athleticism behind the plate do not project him as a full-time catcher. One way or another, he will be part of the 2011 Yankees lineup or he will be dangled to acquire a key contributor. Montero was originally supposed to head to Seattle in a deal which would have landed the Pinstripes Cliff Lee. Other notable names on the Yankee radar include Jayson Werth and Carl Crawford. Also, middle relief must be addressed.
Who are the five guys in your 2011 rotation?
Steph: C.C Sabathia, Phil Hughes, A.J. Burnett, with the additions of Cliff Lee and Bronson Arroyo.
This article originally appeared on The NY Sports Digest. If it's off-beat and it's about the Mets, Yankees, Knicks, Giants, Jets, Islanders or Rangers, then The Digest is the spot to get it. Stop with the mega-sites and get a feel for the true pulse of New York at www.NYSportsDigest.com
Possibly Related Posts:
Read more New York Yankees news on BleacherReport.com