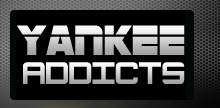 October 20, 2010 · Mike R · Jump to comments
Article Source: Bleacher Report - New York Yankees
The Yankees got clubbed again last night by the Texas Rangers, 10-3. Texas has a commanding 3-1 lead in the series and the Yankees are on the verge of elimination. Even if the Yankees can somehow win Game 5 tonight, they still face the prospect of seeing Rangers ace Cliff Lee again.
This series is over. There is no way that the Yanks beats Lee in this series. This brings me to my point. The Yankees' No. 1 offseason target this offseason should be Rangers lefty Cliff Lee.
Lee is a beast in the postseason. He is 7-0 in the Fall Classic and is a Yankees killer. The Yankees should sign him for no other reason than to keep from facing him in the postseason. He has been the proverbial thorn in the side of the Bronx Bombers for the last few years.
The second reason to sign Lee is the pitching staff needs help. After CC Sabathia, the Yankees do not have one top-line starter in the rotation. Phil Hughes is not a No. 2 pitcher. A.J. Burnett is just plain awful and Andy Pettite is likely done after this season. If the Yankees want to make one or two more postseason runs while their core is still together, then they need to make Cliff Lee an incredibly wealthy man.
Read more New York Yankees news on BleacherReport.com