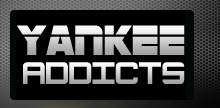 April 28, 2009 · Dan Marra · Jump to comments
Article Source: Bleacher Report - New York Yankees
I was watching the Yankees game last week. I'm sure you caught some of the highlights on ESPN. The Yankees were playing that dynastic team from Cleveland in what's being called "Greatnesses' new home."
It was that game, the one where the electric Ching-Ming Wang built a snowman in less than two innings in the middle of the spring.
Normally, I wouldn't care that a team gave up 22 runs and lost by 18. It's kind of funny when you think about it.
But, if I can alter a quote from Tom Hanks, there's no laughing in baseball.
At least not when you take your family to the game instead of putting a down payment on an '09 Toyota.
If there was ever one perfect example as to why fans should never pay $900 to watch a game, that was it. To see the Yankees and their new "cathedral" for an hour before dry-heaving your way back to your car doesn't seem worth it.
Sure, it's roughly the same price to see a broadway play (actually a play is cheaper). But when I saw Spamalot, did I leave after the Knights of Ni made their appearance?
Not every ticket is over-priced, but it's the ones that are visible from my TV that I notice. When on a sunny, Sunday afternoon you can't sell out a brand new stadium with the highest paid team in the sport hosting, then something has to change.
Maybe Hank and Hal can lower the prices and give fans who already bought them at the over-inflated price their money back. Maybe they put them in some type of lottery. Maybe they don't do anything at all.
Whatever the decision, I'll be noticing it from the comfort of my own TV.