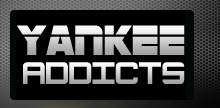 April 20, 2010 · Greg Cohen · Jump to comments
Article Source: Bleacher Report - New York Yankees
(Triple-A) Scranton/Wilkes-Barre (6-6) lost to Buffalo (7-5) 11-7
MONTERO WATCH
Jesus Montero had a big game. He was 1-for-4 with a three-run HR (2) in the seventh inning that gave the Yankees a 6-3 lead at the time. Three RBI, one run scored, and a walk. That's two days in a row Montero has homered.
He also grounded into a force out in the first, walked in the fourth, and lined out to right in the sixth. He came up with the bases loaded in the eighth and the score tied at seven but struck out. He's hitting .289.
PITCHING
Romulo Sanchez made his third start in this game. He came into the game 0-1 with a 12.86 ERA after getting pounded his last time out for 10 runs in two-plus innings. Sanchez had a scoreless first inning with two singles, a DP, and a strikeout. He put Buffalo down in order in the second and third innings. He worked out of a jam in the fourth when he issued two walks and had a wild pitch.
Buffalo took a 3-1 lead in the fifth inning on a single and a double, followed by a three-run homer by Jason Pridie. With the score tied at three in the sixth, Buffalo threatened when they got a walk and single, but Sanchez got a big DP to get out of the inning. He left with a 6-3 lead but did not figure in the decision.
Sanchez' line: 6.0 IP, three runs, six hits, two K, three W, 83 pitches (50 strikes), 11 GO, five FO.
Zack Segovia came on to pitch the seventh with a 6-3 lead. He was horrible! After getting the first out, he gave up a run on back-to-back doubles. An infield hit and then a three-run homer by Fernando Martinez gave Buffalo a 7-6 lead. But that wasn't the end for Segovia. He gave up another double (his third of the inning and fifth straight hit) and was relieved.
Segovia's miserable line: 0.1 IP, four runs, five hits, 0 K, 0 W—ERA 15.00.
Kevin Whelan relieved Segovia and got the final two outs of the seventh inning. In the eighth, Whelan wasn't any better than Segovia. He gave up a walk, sac bunt, and RBI single, and then another walk, stolen base, wild pitch, and hit batter loaded the bases. Mike Hessman then cleared the bases when he hit a three-RBI double to give Buffalo an 11-7 lead and win.
Whelan's ugly line: 1.2 IP, four runs, two hits, one K, two walks, HBP, WP.
OFFENSE
Lefty Pat Misch got the start for Buffalo. Eduardo Nunez continued his hot hitting with a one-out double, Juan Miranda singled, and David Winfree had an RBI sac fly to give SWB a quick 1-0 lead in the first. The Yanks threatened in the third when Nunez singled and stole second (4) and Miranda walked, but they were stranded.
SWB had two runners on in the fourth as Montero had a leadoff walk and Colin Curtis was HBP, but once again they could not score.
The Yanks bounced back to tie the game at three in the sixth. Winfree singled, and Chad Huffman hit a two-run homer (1). Robby Hammock added a single in the inning but was stranded. In the seventh, Kevin Russo had a leadoff single and stolen base. Winfree followed with a walk. Montero then hit a three-run homer (2) to give the Yanks a 6-3 lead.
Trailing 7-6 in the eighth, Greg Golson and Russo singled. Nunez followed with an RBI single to tie the score at seven. Miranda walked to load the bases with one out, but Winfree and Montero stranded the runners. SWB stranded 11 runners.
NOTES
Kei Igawa makes his first start of the season in place of injured Dustin Moseley Wednesday as SWB moves on to Syracuse…Kevin Russo had been in a 2-for-29 slump before his two singles in this game…Nunez had three more hits and is batting .370.
– Big Guy
Offense
Kevin Russo, 2B-3B: 2-for-5, R, SB (3)
Eduardo Nunez, SS: 3-for-5, 2B, RBI, R, SB (4)
Juan Miranda, 1B: 1-for-3, 2 BB
David Winfree, DH: 1-for-3, RBI, BB, 2 R
Jesus Montero, C: 1-for-4, HR, 3 RBI, BB, R
Chad Huffman, LF: 1-for-4, HR, 2 RBI, R, HBP
Colin Curtis, RF: 1-for-4, HBP
Robby Hammock, 3B: 1-for-4
Greg Golson, CF: 1-for-5, R
Pitching
Romulo Sanchez: 6 IP, 6 H, 3 R, 3 ER, 3 BB, 2 K, WP (9.00 ERA)
Zack Segovia (BS, 2): 0.1 IP, 5 H, 4 R, 4 ER, 0 BB, 0 K (15.00 ERA)
Kevin Whelan (L, 0-1): 1.2 IP, 2 H, 4 R, 4 ER, 2 BB, 1 K, WP, HPB (14.73 ERA)
Pitches-strikes: Sanchez, Ro 83-50, Segovia 27-16, Whelan 32-18.
Groundouts-flyouts: Sanchez, Ro 11-5, Segovia 1-0, Whelan 3-0.
(Double-A) Trenton (7-5) lost to New Hampshire (8-4) 2-1
Offense
Austin Krum, CF: 1-for-4
David Adams, 2B: 3-for-4, 2B, R
Austin Romine, C: 1-for-4, RBI
Brandon Laird, 3B: 1-for-4
Damon Sublett, LF: 1-for-3, BB
Reid Gorecki, DH: 0-for-3, BB
Kevin Smith, 1B: 1-for-4
Pitching
Jeremy Bleich (L, 0-1): 5.1 IP, 4 H, 2 R, 2 ER, 6 BB, 4 K (2.04 ERA)
Josh Schmidt: 0.2 IP, 0 H, 0 R, 0 BB, 0 K (1.17 ERA)
Eric Wordekemper: 1 IP, 0 H, 0 R, 0 BB, 0 K (0.00 ERA)
Noel Castillo: 1 IP, 0 H, 0 R, 0 BB, 1 K (3.38 ERA)
Groundouts-flyouts: Bleich 6-5, Schmidt 2-0, Wordekemper 1-1, Castillo, N 0-2
(High-A) Tampa (7-6) beat Clearwater (8-5) 3-0
Offense
Abraham Almonte, RF: 0-for-3, BB, R
Corban Joseph, 2B: 2-for-4, 2B, RBI
Bradley Suttle, 3B: 1-for-3, BB
Neil Medchill, LF: 1-for-4
Melky Mesa, CF: 1-for-4, R, SB (2)
Walter Ibarra, DH: 2-for-3, RBI, BB, R, 4 SB (5)
Mitch Abeita, C: 0-for-2, 2 BB
Myron Leslie, 1B: 0-for-3, BB
Nick Warren (W, 2-1): 6 IP, 1 H, 0 R, 1 BB, 5 K (1.06 ERA)
Pat Venditte: 2 IP, 0 H, 0 R, 0 BB, 2 K (2.89 ERA)
Jonathan Ortiz (S, 4): 1 IP, 1 H, 0 R, 0 BB, 0 K (2.08 ERA)
Groundouts-flyouts: Warren 5-7, Venditte 1-3, Ortiz, J 1-0.
(Low-A) Charleston (5-8) lost to Hickory (6-7) 8-6
Offense
Zolio Almonte, CF: 3-for-5, 2 HR, 3 RBI, 4 R
DeAngelo Mack, LF: 1-for-4, BB, R
Luke Murton, DH: 2-for-4, 2B, 3 RBI
Jimmy Paredes, 3B: 1-for-4
Robert Lyerly, 1B: 0-for-2, 2 BB
Kelvin Castro, SS: 0-for-4, R
Pitching
Sean Black (L, 0-1): 5 IP, 7 H, 7 R, 6 ER, 2 BB, 0 K , WP, 2 HBP (7.71 ERA)
Michael Solbach: 2 IP, 1 H, 0 R, 0 BB, 1 K (1.29 ERA)
Ryan Acosta: 1 IP, 2 H, 1 R, 1 ER, 0 BB, 0 K (6.35 ERA)
Groundouts-flyouts: Black 11-4, Solbach 1-3, Acosta, R 1-1
Read more New York Yankees news on BleacherReport.com