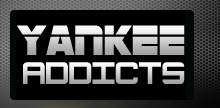 December 18, 2009 · Doug Rush · Jump to comments
Article Source: Bleacher Report - New York Yankees
The Yankees signing of Nick Johnson basically means the end of Johnny Damon's tenure with the Yankees.
Especially since Damon's agent, Scott Boras, has not backed off his contract demands of at least three years and at least $13 million per season.
Unless Damon does what Alex Rodriguez did back in 2007 where he came personally to the Yankees to re-negotiate his contract and take less money, Damon won't be wearing pinstripes in 2010.
According to ESPN's Buster Olney, the Yankees will now move on and add other players like starting pitchers, plus another position player.
That player Olney referred to is Mark DeRosa, who played for the Indians and Cardinals last season.
DeRosa will turn 35 in February, but because of his versatility to play different positions like third base and left field make him a very attractive option on the market.
What makes the Yankees a possible favorite for DeRosa is the area. He's originally from New Jersey and went to school at Bergen Catholic, a school known for producing tons of talented athletes over the years and being nationally ranked in the country in various sports.
There are teams like the Giants and Braves interested in him, but people close to DeRosa have said that playing close to his former home has always been something he's wanted.
Many felt in the beginning of free agency, the Phillies would have been a match considering DeRosa went to the University of Pennsylvania and is also familiar with that area as well, but the Phillies signed Placido Polanco to be their new third baseman, so that took the Phillies out of the DeRosa talks.
In 2009, he hit just .250 with 23 home runs and 78 RBI, which is slightly similar numbers to what Damon gave the Yankees, except for the batting average.
In 2008 with the Cubs, DeRosa hit .278 with 21 home runs and 87 RBI, which is a lot similar to Damon's production and could be what the Yankees are looking for.
According to FOX Sports' Ken Rosenthal, the Yankees are interested, but DeRosa's asking price of three years and $18-$21 million may be too high for the Yankees to bite on.
You have to wonder if DeRosa would accept less to play for his hometown-area team or if he's really just looking for the biggest offer.
The Yankees had a super utility player last season when they traded for Jerry Hairston, Jr., who ended up playing a big role in the second half and the playoffs for the Yankees.
Hairston is a free agent and whether he returns to the Yankees to add to their depth on the bench or not is another question.
Hairston might not cost as much, but DeRosa has better power numbers.
DeRosa could give A-Rod a day off or two at third base or even Nick Swisher in right field. Having someone like DeRosa on the bench means a deeper roster and better pinch hitters in late innings, plus fresher legs when the season goes on.
If DeRosa's asking price doesn't come down, Brian Cashman might pass, just like he is doing now with Damon and focus on adding starting pitching.
But if the Yankees do have a legitimate chance to add DeRosa, they should really consider it because he could be a great addition to a lineup that would add flexibility.
Read more New York Yankees news on BleacherReport.com