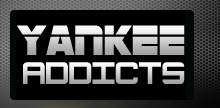 December 1, 2011 · Zak Schmoll · Jump to comments
Article Source: Bleacher Report - New York Yankees
Since November 29 was Mariano Rivera's 42nd birthday, let's take a look back at what has been a phenomenal career in New York Yankees pinstripes.
His rookie season in 1995 was by far his worst campaign, which is significant for two reasons.
First, he started 10 games that season and pitched nine from the bullpen. This season demonstrated that he had to be in the bullpen. It probably wasn't the best news he had ever heard, but I think that a move to the bullpen worked out pretty well for him.
The other reason that this season was significant was because he never had a bad year after that. His highest ERA out of the bullpen between 1996 and the present was 3.15. Many players might have slumps or even regress slightly for one year. That really hasn't happened to Mariano Rivera.
Again, the last time he started a game was in 1995, and has never looked back from the bullpen. He was a setup man in 1996 for then-closer John Wetteland. However, once Wetteland moved on to Texas, Rivera took over that closer's role and has been there ever since.
603 saves later, Mariano Rivera is almost a surefire Hall of Famer after acquiring a World Series ring for every finger on one hand. He had a career 2.21 ERA although in eight out of the last nine years, his ERA was under 2.00. He has a very even WHIP which stands at 1.00, and opponents have only managed to hit .210 against him.
He is expected to be back in New York for at least one more season, then he hasn't showed any signs of slowing down. He has been a great Yankee, and I figured it would be nice to talk about him for his birthday.
Read more New York Yankees news on BleacherReport.com