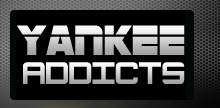 December 6, 2012 · Paul Francis Sullivan · Jump to comments
Article Source: Bleacher Report - New York Yankees
The age of the New York Yankees and their thin minor league system may be creating some very strange bedfellows.
According to Andrew Marchand of ESPNNewYork.com, the New York Yankees have offered former Boston Red Sox star and Chicago White Sox third baseman Kevin Youkilis a one-year $12 million contract.
As of this writing, Youkilis has not agreed with the Yankees. According to Tyler Kepner of The New York Times, the Cleveland Indians could be interested in signing Youkilis to a two-year deal, reuniting him with his Red Sox manager Terry Francona.
If Youkilis signs with the Yankees he would be the eighth member of the 2004 World Champion Red Sox to come over to the Bronx. He would join Mark Bellhorn, Alan Embree, Mike Myers, Ramiro Mendoza, Johnny Damon, Doug Mientkiewicz and Derek Lowe as players who participated in the postseason that year who went on to become Yankees.
Perhaps the signing would give the Yankees some publicity and stoke fires with their dormant rivals in Boston. But the addition of Youkilis does not solve many problems.
The Yankees have a massive hole at third base. According to Anthony McCarron of the New York Daily News, Alex Rodriguez may miss as much as half of the season as he recovers from a second hip surgery. Even if Rodriguez can come back, asking to play 80 games at third at a high level.
With potential third base replacements Eric Chavez and Jeff Keppinger signing elsewhere, the Yankees could look within the system for a replacement. But if New York is considering Kevin Youkilis, then they may not be ready to hand third base over to David Adams, Jayson Nix or Ronnie Musteiler.
But Youkilis has issues that are all too familiar to Yankee fans. He will 34 next season and has been battling injuries. "The Greek God of Walks" still has a good eye, but his on base percentage has dropped in each of the last three seasons as has his batting average.
And he has been a mediocre third baseman defensively at best.
The Yankees may add a famous name to their roster if he signs. But he is also bringing a career on the downside along with injury issues to a lineup that does not need any more of that.
New York is prepared to commit $41 million on third basemen next year, and there is no guarantee that a third and much cheaper option will take the lion's share of starts at the hot corner.
Read more New York Yankees news on BleacherReport.com