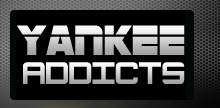 November 25, 2011 · Nicholas Pugliese · Jump to comments
Article Source: Bleacher Report - New York Yankees
This is a little segment where I plan to highlight all of the Yankees prospects that have a chance to make an impact on the big league club for the 2012 season.
A week ago, the Yankees added five prospects to the 40-man roster to be protected from the Rule V Draft. For me, the biggest name on this list was 25-year-old right-hander, David Phelps.
Phelps is a little old in the prospect world, but he has moved through the minors at a steady pace and has had some outstanding results.
Through four minor league seasons, Phelps has amassed a 38-15 record with a 2.61 ERA and an unworldly 3.66 SO/BB. He has succeeded at every level of the minors, with his "worst" season coming last year when he posted a 3.19 ERA in 107.1 innings for Scranton/Wilkes-Barre, along with 90 strikeouts to just 20 walks.
Over the offseason, Phelps participated in the Arizona Fall League and went 2-2 in eight starts with a 4.41 ERA. After giving up nine runs in his first 9.1 innings, however, he settled down and gave up just seven over the next 23.1 innings.
Long story short—as far as the stats go, Phelps is a great pitcher with a definite ability to succeed at the major league level.
The question is: How does the stuff hold up?
Phelps has always had pretty good velocity, touching 92 mph coming out of high school with recent reports of him hitting 93-95 mph—but I have a pretty good reason to believe that he is actually more in the 91 mph range and touching higher.
Nonetheless, that velocity combined with his outstanding command and his ability to put natural sink on the ball is a great combo. Phelps complements his sinker with an excellent slider that was voted the best in the Yankees system last year by Baseball America.
He also throws a changeup that has shown some potential because of its command, but that is more of a change-of-pace pitch.
There are varying opinions on Phelps's curveball. Some see it as a true potential out pitch at the major league level, while others view it as a nice fourth pitch in a repertoire.
If the Yankees don't sign any other pitchers this offseason there is every chance Phelps is brought into spring training to create some competition for the last couple spots in the rotation.
Then again, the chances of the Yankees not adding any other starters is pretty slim. If Phelps does not earn a spot in the rotation or the bullpen out of spring he will be one of the first guys called up in case of an injury. After all, Brian Cashman did have Phelps scratched last season in case he needed to make a spot start for Bartolo Colon and had Phelps not gotten injured himself, he probably would have shown up on the big club at some point last year.
Phelps has been the rare underrated Yankees prospect who could surprise many because of his ability to throw strikes and be a workhorse in the rotation. His sinker-slider combo should allow him to transition into a successful middle reliever at the very least. If Phelps isn't able to secure a spot on the team this year, however, I would expect him to be dealt at the trading deadline.
*For more posts like this visit The Stirring Straw. Also follow us on Twitter @StirringStraw.*
Read more New York Yankees news on BleacherReport.com