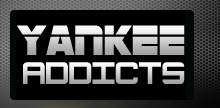 October 19, 2010 · NY Sports Digest · Jump to comments
Article Source: Bleacher Report - New York Yankees
By Mark Rinaldi
Most people remember that in the middle of the summer the New York Yankees were inches away from acquiring Cliff Lee from the Seattle Mariners for two prospects. The deal was so close to becoming official that Lee's wife called CC Sabathia's better half for advice on making the transition to the Bronx.
If the deal would have been made the Yankees would have had six big name starting pitchers in C.C., Lee, Andy Pettite, A.J. Burnett, Phil Hughes, and Javier Vasquez. The talk was then that the Yankees were going to ship Vasquez to Philly for Jayson Werth. So in theory the Yankees would have dealt Melky Cabrera and three prospects for two of the three biggest free agents this summer.
Lee would have pitched either the first or second game of each of the first two series and Werth would be the starting left fielder or designated hitter and hitting sixth in the line up, protecting Cano and setting the table for Graderson and Posada.
Had the deal been done the Phillies would also have not gone after another starting pitcher so they never would have acquired Roy Oswalt for the stretch run, and the Yankees would have never picked up Berkman which would have sucked for the Astros.
So had the Bronx Bombers completed the Lee deal they would have picked up two players to make their advantage infinite over the competition in the league. Plus the Phillies and Rangers would not be where they are right now and rather then being down 3-1 the Yankees probably would be looking at number 28.
This article originally appeared on The NY Sports Digest. If its off-beat and it's about the Mets, Yankees, Knicks, Giants, Jets, Islanders, or Rangers, than The Digest is the spot to get it. Stop with the mega-sites and get a feel for the true pulse of New York at www.NYSportsDigest.com
Possibly Related Posts:
Read more New York Yankees news on BleacherReport.com