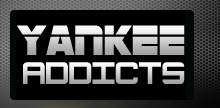 June 14, 2009 · Gordon Bengtson · Jump to comments
Article Source: Bleacher Report - New York Yankees
Going into the game today between the New York Yankees and New York Mets, there have been a record-pace number of home run balls flying out of the new Yankee yard.
Today was an off day, as they only added two more to the total.
Mets Starting Pitcher Johan Santana was looking to come out strong against the cross town rivals after allowing four home runs against the Phillies last Tuesday and recording only two strikeouts.
We never saw a strong Santana.
Jeter went 4-for-4 and Hideki Matsui launched one over the right field fence in the fourth inning.
114.
That was pretty much it for Santana, who struggled all day to locate his fastball.
No more than 10 minutes later, I looked up to see Robinson Cano sending one to deep right field.
115.
Santana was roughed up for a nine-run fourth inning. I guess he dropped the ball for the Mets today.
One Hundred Fifteen
Take that number (115) and their 32 games at home thus far and you can find out how many " long-balls" are flying out of the new Yankee stadium per game.
Simple division folks—over three-and-a-half homers per game (3.6) for the first three months of the season.
The rate is going to start challenging the record of the '99 Colorado Rockies, when fans at Coors Field saw 303 long-balls at home that season (303 / 81 = 3.7).
That's just because the field has that the thin air. Mile high and such, I suppose. "Yeah—it's the Rockies!"
Return of A-Roid
On another note, A-Rod has been back for only about a third of the season so far.
Enough said—Roids or not, the guy can hit the ball over any fence—or wall for that matter. I expect him to contribute some "dingers" in the near 50 remaining home games.
Tex's Two Step
I've heard people say Mark Teixeira is notoriously a slow starter but catches fire later on.
Umm, he ranks behind the likes of the Babe and a guy named Maris for third fastest to 20 home runs in a season.
No wonder he decided to join the Yankees.
In all seriousness though, can you really blame the guy?
They offered him more money and a shorter right field than Boston. Of course, all wrapped in pinstripes in a new facility in the city that never sleeps.
The cherry on top? He would be completing a lineup many consider this generation's definition of Murderer's Row.
These are just observations about the homers that have been flying out at a solid pace, but only expect it to increase with more A-Roid and a hotter Tex.
Oh, and please note Teixeira has 13 of those 20 "long-balls" at the new Yankee stadium.
So, I think starting off this year he loves the fast pace of New York.
Chicks Dig the Long-Ball
I've heard analysts tossing around ideas about creating wind currents above the field to try and keep some of these hits in play.
Come on guys, we all know that's not going to happen. Chicks dig the long-ball, remember?
See the hilarious Nike ad here.
What if this is just an intricate plan to again buy another bunch of championships?
We all know the Yankees haven't turned away juiced ballplayers, so why wouldn't they juice the stadium?
Is it possible Steinbrenner hired a top tier engineering firm to maximize the stadium for long-balls?
I do have to say, it might be a bit far fetched, but honestly—it's probably the best thing for the new New York Yankees stadium.
I think I speak for all baseball fans when I say I think we are trying to move to a post-steroids era of baseball. We are not out of the woods quite yet (thank you Manny Ramirez), but there has been some progress. A few steps have been made—although not as many as Raul Ibanez wants.
Why not have more four-baggers by moving the fences in, since they aren't hitting them 500 feet anymore? The sluggers swear they're clean now!
The home run is what makes it America's game.
With one swing of the bat, in the blink of an eye—something can happen, you can change the game.
Fans definitely still dig the long-ball. It's what keeps so many of us watching until the ninth inning instead of calling it a day after the sixth or seventh inning.
There's always a chance.
If I were a Yankees ticket sales executive, I would try and get on that right field section, grab a sponsor, mark it all up, and call it the "La-Z-Boy Long-Ball Lounge" or something.
If those are your seats, then you have a good chance of going home with a souvenir "long-ball" and a solid chance of being on ESPN.
That's where you want to be sitting if you are going to a Yankees game!
Modern Day "Murderer's Row"
Some of the best hitters in the game—again.
You could see Jeter, Damon, Teixeira, A-Rod, Cano, Matsui, and Posada in order if that's how Giradi wanted to do it. Potentially, five of those first seven can also hit from the left side of the plate.
I say it again: Get a seat in right field.
More Yankees homers mean more shots at all-time records…we all know how much the Steinbrenners love those.
It could be a dangerous gamble, as they aren't the only ones knocking them out of their new park. They're opponents at the new location are only five behind the home team in total home runs.
Will the home run engineered stadium help or hurt the long-ball lineup of the Yankees?
Is it still cheating if it enhances the performance of both teams?
Could this field be an authentic "Hankenstein" creation to try and take the league back, or am I a crazy Boston fan doing too much "homering," myself?
Let's hear 'em folks! Follow me @twitter/GBsWorld