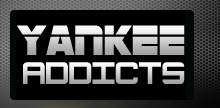 November 12, 2011 · Matthew McNab · Jump to comments
Article Source: Bleacher Report - New York Yankees
The game of baseball has always had clearly defined winners and losers. On the other hand, the business of baseball­, i.e., the trades and signings teams make, hasn't. For years baseball writers have dissected and analyzed trades to see what team benefitted more from the deal.
New York has always been active in the trade market, but they've been busier now than they've been in the last 15 years. The Yankees have always been at the forefront of these discussions, for both good and bad reasons. The Jay Buhner-for-Ken Phelps trade was so bad it was lampooned in an episode of Seinfeld. The trade for Babe Ruth was so good it cursed the archrival Red Sox for nearly a century.
The first in a multi-part series, this article will break down every trade the Yankees have made, starting with the two most recent seasons—from the 2009 offseason until now. Each trade will have one of three verdicts—the Yankees benefitted the most, the other team involved in the trade benefitted the most or a tie between both teams.