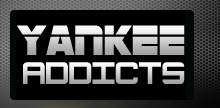 February 2, 2012 · Bill Ford · Jump to comments
Article Source: Bleacher Report - New York Yankees
Like most New York Yankees fans, I live and breathe Yankees. Yankee blood flows through my veins.
Over the years since I was a child, I watched my beloved Yankees go through the good, the bad and the ugly.
No matter how ugly things became, I always believed in my team.
Many athletes have come and gone through the Yankees organization. Some were for a year or two, and some were career-long Yankees.
My respect and admiration for all of the athletes who have played for and have become part of the Yankees culture is immeasurable.
As much respect as I have for them, even I must admit that there are some former athletes who played for NY who received a great deal of hype, but didn't truly earn the recognition and fanfare, and are somewhat overrated.
Many readers will disagree with me, I'm sure, but these are the players who stand out in my mind.
They are listed in no particular order.