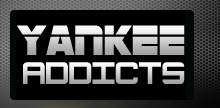 September 12, 2011 · Doug Rush · Jump to comments
Article Source: Bleacher Report - New York Yankees
We've talked about this topic for well over two months now: Who is going to be the American League Most Valuable Player for the 2011 season?
The Yankees have a candidate of their own in center fielder Curtis Granderson, who is having by far the best season of his career.
Through Sunday's games, Granderson was hitting .265 with 39 home runs and 111 RBI. Before 2011, the best season Granderson had hitting-wise was back in 2009, when he hit .249 with 30 home runs and 71 RBI. He is crushing all expectations this season, and he is definitely in the running for the award.
But, is he the overall choice?
Now, there are other players who are in the running as well.
There is the Detroit Tigers first baseman Miguel Cabrera, who is hitting .329 with 26 home runs and 95 RBI. Cabrera also has 171 hits, scored 92 runs, walked 95 times and has a .432 on-base percentage.
Then there is center fielder Jacoby Ellsbury from the Boston Red Sox, who is also having his best year with Boston. Ellsbury is hitting .317 with 26 home runs and 91 RBI with 186 hits, has scored 104 runs and stolen 36 bases.
And Ellsbury is supposed to be Boston's leadoff hitter, too. Very good numbers from a leadoff hitter.
And we can't forget Ellsbury's teammate and first baseman Adrian Gonzalez.
Gonzalez is hitting .339 with 25 home runs and 108 RBI with 195 hits, has scored 101 runs and has a .406 on-base percentage. His .339 average leads all American League batters, so he's also in line for the batting title as well.
There is also Toronto Blue Jays right fielder Jose Bautista.
Bautista, the 2010 home run champion, is having another fine season, hitting .305 with 41 home runs, 98 RBI, has 142 hits, scored 99 runs and has a .443 on-base percentage.
A lot of people feel that Bautista could be the odds-on favorite, especially considering he is the current American League leader in home runs, which is always an attractive stat.
Before I continue, people have also talked about Detroit Tigers pitcher Justin Verlander as being in the discussion for MVP. Verlander is 22-5 with a 2.44 ERA in 229 innings with 232 strikeouts, an amazing season.
He should easily win the A.L. Cy Young Award, hands down. He is the best pitcher in baseball this season. But he plays once every five games, so I am not putting Verlander in the race for MVP. It's an award saved for everyday players.
Now, to Granderson.
Granderson is hitting .265 with 39 home runs and 111 RBI. He also has 141 hits, 127 runs scored, 24 stolen bases and a .368 on-base percentage. He is second in the A.L. in home runs, first in RBI and in runs scored and he's also second in the league with 10 triples.
A lot of people have made the case for Granderson to be the A.L. MVP over Bautista. Some have attributed it to the fact that Bautista is on a fourth-place team in Toronto, while Granderson's Yankees are in first place of the A.L. East.
One thing Bautista doesn't have over Granderson is the numbers that help win games; in runs scored and the RBI totals, Granderson has the edge over Bautista in both categories.
If you want similar stats for a past MVP Award, look at Boston Red Sox second baseman Dustin Pedroia.
In 2008, Pedroia hit .326 with 17 home runs, 83 RBI, had 213 hits, scored 118 runs, stole 20 bases, hit 54 doubles and had a .376 on-base percentage. He had a great year overall, which is why he won the award three years ago, and he deserved it. Without him, Boston wouldn't have done nearly as well.
And I think the same goes for the Yankees with Granderson. The Yankees wouldn't be in first place over Boston right now if it weren't for Granderson and what he's given them all season long.
Sure, Mark Teixeira is hitting .247 with 36 home runs and 103 RBI, Robinson Cano is hitting .301 with 25 home runs and 106 RBI and Alex Rodriguez is hitting .284 with only 15 home runs and 56 RBI. But it's been Granderson who has carried the load for the Yankees offense in 2011. He's a big reason why they're in first place in September.
I would give the 2011 A.L. MVP Award to Granderson, but honestly, if they give it to Bautista, I would understand why.
Because in 1996, 1998, 1999, 2000 and 2009, a Yankee didn't win the A.L. MVP Award. They won the World Series instead. And in the end, winning that means more than just an A.L. MVP Award.
So if Bautista, Ellsbury, Gonzalez or Cabrera win the award over Granderson, it's quite all right—as long as the Yankees are the last team standing in October and Granderson is hoisting the World Series trophy.
But for argument's sake, Granderson has done everything he can to earn himself the A.L. MVP.
Read more New York Yankees news on BleacherReport.com