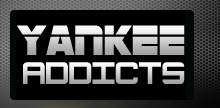 December 2, 2011 · Nicholas Bader · Jump to comments
Article Source: Bleacher Report - New York Yankees
In 2007, Alex Rodriguez received a new contract from the New York Yankees. Granted, the way it all went down was very hectic, with Rodriguez opting out of his previous contract during the last game of the World Series. After the discrepancy, Rodriguez signed a new deal with the Yankees for 10 years and $275 million.
Rodriguez received $27 million in 2008, $32 million in 2009, $32 million in 2010 and $31 million last season and will receive $29 million in 2012, $28 million in 2013, $25 million in 2014, $21 million in 2015, $20 million in 2016 and $20 million in 2017.
For each historic milestone that he reaches, he will receive $30 million dollars on top of what he already makes. So with baseball's richest contract, one can't help but think that he should be the best player on the Yankees.
But he has not. Honestly, he has been kind of a letdown.
Rodriguez has had his moments—like his 600th home run, his walk-off home run in Game 2 of the 2009 ALDS and having great seasons in 2005, 2007 and 2008 while batting over .300.
But aside from his 2009 postseason, Rodriguez has been awful during October. In 2006, he batted .071 and didn't drive in a run. In 2007, he batted .267 and only drove in one run in four games. In 2011, he batted .111 and struck out six times, and failed to drive in important runs against the Tigers.
Granted a lot of players were left on base, but Rodriguez's at-bats really hurt the Yankees in the postseason. For $275 million, Rodriguez should be producing where it really matters—in October.
Read more New York Yankees news on BleacherReport.com