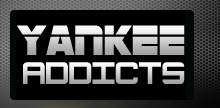 September 20, 2011 · Jed P · Jump to comments
Article Source: Bleacher Report - New York Yankees
A.J. Burnett was unexpectedly pulled from yesterday's game in the fifth inning. This wasn't an injury, however, as Joe Girardi told the media after yesterday's game.
"I thought his stuff had clearly changed; that's why I pulled him, It wasn't that I wanted to; I was hoping to get distance out of him. I would've loved to have a complete game, but I thought his stuff clearly changed."
Burnett was insulted and humiliated by the hook, as he stormed out of the clubhouse saying, "Heaven forbid I give up a couple hits." He also said, "I didn't get through the fifth because I wasn't allowed through the fifth."
Burnett also stated he thought his stuff was "nasty" during Monday's game.
Is this a good influence for the young players still learning in the clubhouse? Obviously not. In these statements, it seems like Burnett is not afraid of the Yankees organization and has a lack of respect. Has Burnett not realized when he points out a few hits is OK, even though he also gave up four runs.
So what does this mean?
This means Burnett feels like he is undeserving for the threats of losing his rotation spot, as his ERA is almost the highest in the league (among daily starters) and has been struggling. Burnett often has troubles coming into the fourth or fifth inning, which is a bad sign. So this means it has been a too long and too soft journey for Burnett, who is excused for having bad outings on a constant basis.
This has ruined respect for Burnett, who still has two years left on a five-year, $82.5 million contract. Yet he is apparently excused from him posting a 5.28 ERA, though he is not and needs a reality check. His disturbing selfish attitude is resented by the media, and it may cost him a playoff rotation spot.
He will likely lose his spot not because of his outing, but because of his disrespect for management, players and team, as he has caused nothing but trouble. He has to face reality right now and accept his position without tearing apart the media.
Read more New York Yankees news on BleacherReport.com