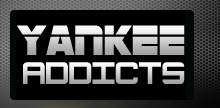 February 18, 2012 · Jake Singer · Jump to comments
Article Source: Bleacher Report - New York Yankees
When Jorge Posada announced his retirement in January, Yankee fans were reminded that the end of an era is rapidly approaching. Along with Andy Pettitte, who called it quits last winter, half of the "Core Four" has now retired.
Derek Jeter and Mariano Rivera remain, and 2012 may very well be Rivera's last season in pinstripes. As the age of the "Core Four" comes to a close and as other Yankees age, the question must be asked: Is 2012 the last chance for the current group of Yankees to parade down the Canyon of Heroes as World Series champions?
No.
Brian Cashman has done a fantastic job of assembling a team and farm system that is well-equipped to contend for titles for years to come, even as Derek Jeter, Mariano Rivera, Alex Rodriguez and other aging Yankees decline, retire or leave the organization.
At the time of press, seven Yankees on the 40-man roster are 35 years old or older: AJ Burnett, Pedro Feliciano, Freddy Garcia, Derek Jeter, Andruw Jones, Hiroki Kuroda and Alex Rodriguez. (When AJ Burnett is officially traded to Pittsburgh, that number will go down to six.) None of the seven are essential.
Pedro Feliciano, Freddy Garcia and Andruw Jones are signed through 2012 and are not expected to be contribute much, if at all, past this year.
Hiroki Kuroda will likely be the Yankees' second or third starter this year, but he too is only signed for 2012.
Alex Rodriguez hit fewer than 30 home runs last year for the first time since 1997 while playing in just 99 games, but the Bombers are hopeful that DH-ing A-Rod more than ever before will help him be productive once again in 2012 and beyond.
Derek Jeter showed that he can still be a quality player on a playoff team, hitting .331 after July 4 last year, but he is no longer a focal point of the Yankee lineup.
Meanwhile, the new Yankee core is more than ready to lead the team to several championships.
Already in the big leagues, 29-year-old Robinson Cano is still improving despite having MVP-caliber seasons in 2010 and 2011. Curtis Granderson has solved his issues hitting left-handed pitching and belted 41 home runs in 2011, and is still only 30 years old. Brett Gardner could be a quality lead-off hitter for several years, and Mark Teixeira is only 31.
Pitching-wise, CC Sabathia signed a contract extension during the offseason that will keep him in pinstripes through at least 2016 and will be joined in the rotation this year by 23-year-old phenom Michael Pineda.
Ivan Nova and Phil Hughes have high upside and are only beginning to enter their primes. The Yankees also seem to have found an heir-apparent to Mariano Rivera in Dave Robertson.
And more help is on the way. Pitchers Manny Banuelos and Dellin Betances, along with catcher Gary Sanchez and outfielder Mason Williams rank among MLB's top 100 prospects, according to ESPN's Keith Law. Jose Campos, acquired in the Pineda-Jesus Montero deal this winter, is another pitcher to keep an eye on.
In 2014, it is conceivable that the Yankees' rotation will consist of Manny Banuelos, Phil Hughes, Ivan Nova, Michael Pineda and, of course, CC Sabathia, supported by a bullpen that includes Dellin Betances, Joba Chamberlain and Dave Robertson.
While it is hard to imagine going to the House That Ruth Built without Bob Shephard announce Derek Jeter or watching Mariano Rivera come in from the bullpen to the tune of "Enter Sandman," Brian Cashman and the Yankees front office have done a fine job ensuring that the team will continue to be competitive in 2013 and beyond.
Read more New York Yankees news on BleacherReport.com