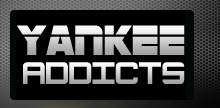 December 2, 2012 · Stephen Skinner · Jump to comments
Article Source: Bleacher Report - New York Yankees
With news that catcher Russell Martin has agreed to a contract with the Pittsburgh Pirates, the New York Yankees will look very different behind the plate in 2013.
As the primary backstop for the Bombers for the past two years, Martin hit 39 home runs and drove in 118 in 258 games. His predecessor, Jorge Posada, hit 40 home runs and had 138 RBI in his final two years as the Yankees' starting catcher.
In the field, Martin was adequate for the Yankees—and in spite of hitting for a career-low .211 batting average, he was one of the Gold Glove finalists at catcher in 2012.
Now with Martin gone, what does the future hold for the team behind the plate?
General manager Brian Cashman has stated that there is a real possibility the Yankees will use a combination of players already "in house" to fill the catching spot in 2013.
A look at the current roster tells us that those players will include Austin Romine, Francisco Cervelli, Chris Stewart and Gary Sanchez. The team also claimed (and signed) 33-year-old Eli Whiteside from the Giants, but chances are he'll either play in Triple-A Scranton-Wilkes Barre or be released in the spring.
Given the highly publicized, self-imposed $189-million salary cap that the Yankees will be working under, it is unlikely that the team will put much money towards bringing in a bigger name to work behind the plate next season.
Here is a look at what each of the four main choices the Yankees have at catcher if they don't bring in outside help.
Austin Romine is just 24 years old and the heir-apparent to the starting catching role in the organization. Unfortunately, a back injury set him back in 2012 and he missed most of the season. He has above-average defensive skills, but needs to get at-bats to work on the hitting side of his game (he hit a combined .243 at the Single-A and Triple-A levels last season).
If he can show a good offseason work ethic and come to camp healthy, there is a real possibility that Romine will spend some time at the big league level next season.
Francisco Cervelli will be 27 years old when the team opens up its 2013 spring training. He entered 2012 as the backup to Martin, and on the final day of camp was demoted to the Triple-A club. It was a heartbreaking blow for the catcher whose spirit had won many New York fans over, and early in the regular season that heartbreak carried over to his play.
I had the opportunity to watch Cervelli in April, and rather than seeing the fiery competitor I had seen in previous years, I witnessed a broken player who half-heartedly threw pitches back to his battery mate and jogged to first base on ground balls.
I worried that perhaps Brian Cashman had sniffed out this young catcher's potential with the demotion. In addition to being angry with Cashman, I was also angry with Cervelli. If he truly was the player I believe he was, then he needed to put what he couldn't control behind him and prove to the team that he belonged. I even wrote an article to that effect.
After starting his season hitting .159, he did rally and raised his average to .246 before being called up to the Yankees in September.
Cervelli's strength lies in his ability to hit. Prior to 2012, he carried a .271 average at the big league level, and he has shown speed on the basepaths—stealing four bases in 43 games during the 2011 season.
His defense is what has prevented him from reaching starting catcher status, and one could say that he is the exact opposite of Austin Romine. However, it should be mentioned that in 2012 he threw out runners at a higher rate (31 percent) than either Martin (24 percent) or Stewart (23 percent).
Chris Stewart was brought in at the beginning of the 2012 season as a defensive specialist. He has never hit for average (his career high was .243 in 2007 for the Texas Rangers) or power (CC Sabathia has the same number of career home runs).
Last season the 30-year-old former San Francisco Giant hit .241 in 55 games for the Yankees, and allowed eight passed balls behind the plate.
Of the four catchers that the Yankees may choose to start when the team begins its 2013 campaign, Stewart is the best at working with the starting staff. That is most evident in the fact that for the vast majority of last year, he was the starting catcher for "ace" CC Sabathia.
If he can show some improvement with a bat in his hands during spring training, chances are that Stewart will be the primary backstop for the team next season.
Gary Sanchez is just 20 years old and hasn't played above Single-A baseball yet in his young career. It is more than likely he will spend most of next year in the minor leagues, but he is being mentioned here because he has the highest "ceiling" of the four catchers that will be looked at in 2013.
At Single-A Charleston and Tampa, Sanchez hit .288 with 18 home runs and 85 RBI in 116 games. In addition to those numbers, the promising catcher stole 15 bases and threw out runners at a 30 percent rate. Clearly, he is the long-term solution for New York behind the plate, and hopefully the team will exercise patience to allow his enormous talent to develop.
Whether or not Brian Cashman seeks outside help at the catching position, either via a trade or free agency, remains to be seen. If he doesn't, all indications are that the Yankees will employ a catcher-by-committee strategy in 2013. If that is the case, depending upon who catches on a given day, the team will either sacrifice offense or defense in the lineup.
Read more New York Yankees news on BleacherReport.com