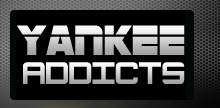 April 11, 2013 · Stephen Skinner · Jump to comments
Article Source: Bleacher Report - New York Yankees
The team is too old, too hurt and too overmatched, yet in spite of those opinions of so-called experts the Yankees have been able to ride blazing starts of some key players to a 4-4 record (one game out of first place in the East).
Some of those "hot" players will cool off, but others have the potential to maintain the high level they began the season with.
This article takes a look at those Yankees whose stellar play could be the key to a successful run at defending their AL East crown.