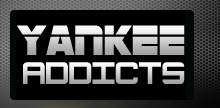 February 17, 2012 · Stephen Skinner · Jump to comments
Article Source: Bleacher Report - New York Yankees
With the combined news that A.J. Burnett will no longer be a New York Yankee and Tim Wakefield's retirement, an era of generosity in Yankee Stadium comes to an end.
In the past two seasons the Yankees have now unloaded A.J. Burnett, Javier Vazquez and Scott Proctor. Couple those "losses" with the Red Sox no longer having Wakefield on the mound, and you suddenly see an epic drop-off of home runs in Yankee Stadium.
Let's start with AJ Burnett. In his Yankee career he pitched 299 innings in the home stadium, surrendering 42 round-trippers in that span. That's one every 7.1 innings pitched.
But wait, it only gets better.
Scott Proctor's Yankee stadium era was much more profitable for Yankee fans. In 110.6 career innings on the home field, he yielded 22 home runs. Scott's rate is one home run for every five innings pitched in the Bronx.
Javier Vazquez's rate tops all the recent Pinstripe pitchers. In his 170 career-stadium innings, he managed to supply the fans with 35 game-used souvenirs. That accounts for one fan beyond the wall receiving a ball every 4.8 innings pitched.
I would be remiss if I did not include our beloved Wakefield. He of the "Aaron-bleeping-Boone" home run actually pitched 223 innings in Yankee stadium over the course of his career.
In that span, he gave us 40 wall-clearing shots. While not as generous as Misters Proctor and Vazquez (he was a RED SOX, after all!), it is still a very generous rate of one home run every 5.6 innings.
Combined, the four pitchers I mentioned have given up 139 home runs in 802.6 innings on the Yankee stadium mound. That's one dinger for ever 5.8 innings they pitched.
In short, this season fans should be prepared for a monumental decline of in-game souvenirs. Sitting beyond the outfield walls will no longer prove to be as memorable, and you may actually have to spend money to get an authentic major league baseball.
Read more New York Yankees news on BleacherReport.com