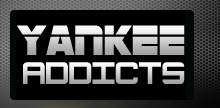 March 8, 2012 · Michael Nargi · Jump to comments
Article Source: Bleacher Report - New York Yankees
When Mariano Rivera retires, David Robertson is likely to be the next closer for the New York Yankees, so any injury to the All-Star gives New York a reason to be worried.
On Thursday, Joe Girardi expressed concern over Robertson's MRI results on his injured foot.
According to Daniel Barbarisi, Yankees beat writer for the Wall Street Journal, Girardi said Robertson's MRI showed "cause for concern." Barbarisi also said that "Girardi seems worried."
The Yankees have sent Robertson for more tests on his foot.
The injury occurred when Robertson missed a step while moving boxes down a flight of stairs at his home on Wednesday night.
The X-rays taken on Thursday morning came back negative.
With negative X-rays, Wallace Matthews of ESPNNewYork.com reported that Robertson suffered a "midfoot sprain." Matthews quoted Girardi:
I'm concerned, because the way I saw him walking today, it hurt him to walk. You assume he's gonna be down for a little bit of time even if everything comes back OK. Now that doesn't mean he wouldn't have time to get ready for the season, but he'll start over a little bit.
The Lisfranc injury is the injury that Chien-Ming Wang suffered in 2009 for the Yankees.
Girardi's concern should give fans a reason for concern as well.
Robertson is vital to New York not only in the future, but this season as well. Robertson had a 1.08 ERA last season, along with 100 strikeouts and 35 walks in 66.2 innings.
Until there are results on the upcoming tests on Robertson, the Yankees and their fans will certainly be crossing their fingers.
Read more New York Yankees news on BleacherReport.com