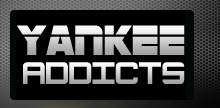 February 11, 2013 · Adam Wells · Jump to comments
Article Source: Bleacher Report - New York Yankees
At the big league level, the New York Yankees enter the 2013 season in a unique position. They will still be competitive and may possibly be a playoff team because there is plenty of talent still on the roster.
The issue is—and this was quite apparent at times last year—that the Yankees are very old. Their roster is comprised of players on the downside of their careers, like Mark Teixeira, Alex Rodriguez (if he plays again), Derek Jeter, Curtis Granderson, Andy Pettitte, Mariano Rivera, et al.
Another problem that the franchise faces has to do with financesl. Obviously, the Yankees are never not going to have money, but ownership said last year (h/t New York Times) that it is looking to get the payroll down to $189 million by 2014.
When you have a roster comprised of aging and expensive players, it is going to be hard to do a lot of wheeling and dealing that can help plug holes that come up during the season.
While there is good talent in the minor league system, many of the team's top prospects are still not going to be ready for at least another year. This team has done a good job of adding high-upside athletes in recent years, but a few players whose rise through the ranks exposed holes in their game have left them without a lot of youth to bet on in 2013.
Here is an in-depth look at the state of the Yankees' farm system heading into 2013. This slideshow will take a look at prospects who could be big-league contributors this season as the best players that this system has to offer.
Note: All ages and stats courtesy of MiLB.com unless otherwise noted.