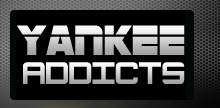 October 8, 2011 · Ben Shapiro · Jump to comments
Article Source: Bleacher Report - New York Yankees
Pretend for one instant that I can tell the future. I can predict things with stunning accuracy. Now pretend it's the night before opening day way back at the end of March 2011. You ask me about the upcoming New York Yankees 2011 season. Here's what I tell you.
Alex Rodriguez won't hit 20 home runs or get to 70 RBIs.
Mark Teixeira will finish with a batting average of under .250.
Your starting rotation for the better part of the season will be made up of C.C. Sabathia, AJ Burnett (who will endure another rough year), Bartolo Colon, Freddy Garcia, and Ivan Nova.
Joba Chamberlain won't pitch at all and Phil Hughes will be used sparingly and will be ineffective.
Nick Swisher will have a major drop off from his 2010 season.
Oh and the Yankees will finish with 97 wins, win the American League East and claim the American League's best record.
After you were done laughing and probably calling friends to tell them you just met a delusional nutcase, you'd likely try and dismiss the little chat and continue to follow the baseball season. Nothing wrong with that because had someone described the above scenario to me, I'd have found it unlikely to say the least.
Except that's what happened.
An undermanned starting rotation. A lineup with more underachievers than overachievers. Yet the Yankees for all their shortcomings found a way to get the job done. No, they didn't advance to the ALCS. The season won't end with a parade in downtown Manhattan, but this Yankee team should make Yankee fans feel good.
They're not though. Yankee fans and the New York Media are up in arms over their first round loss to the Detroit Tigers.
A loss to a team with arguably the two most valuable players in the American League and indisputably possessing the league's best pitcher. A Tiger team with a veteran manager who has been taking teams to the postseason since Joe Girardi was a 25 year old catcher on the Chicago Cubs. A Tiger team with a closer in the midst of a Mariano Rivera like perfect season.
This was a Yankee team that in many ways overachieved.
They were not supposed to win the American League East, they were not supposed to claim home field through the playoffs. Yet they did. In spite of a very subpar season by first baseman Mark Teixeira and an injury-prone and poor performance by Alex Rodriguez the offense was lethal.
The Yankees got a career-year out of Curtis Granderson and got another all-star caliber season from Robinson Cano. The Yankees signed Russell Martin as a catcher in the offseason and got solid fielding, a competitive fire and 18 home runs out of him. The Yankees got solid bench play all yearlong from guys like Edwin Nunez, Francisco Cervelli, and Eric Chavez. The Yankees also got a nice peek at the future when Jesus Montero came up from the minors in September and responded with a .328 batting average, four home runs, and 12 RBI in just 18 games.
No one likes losing and Yankee fans for reasons that are the envy of every other baseball fan in the world seem to be take it very hard. Yet this season's unceremonious ending really does seem like one that Yankee fans should be handling with a little more grace.
If anything this Yankee team exceeded expectations, they didn't lose to a bad team, they didn't blow a massive lead in the regular season, they made it as far as a team from Philadelphia did and that team won 102 games and has arguably the best starting rotation baseball has seen in decades. That team is gone after five postseason games, just like the Yankees are. That team was predicted to win the World Series by nearly everyone, this Yankee team was predicted to win the World Series by almost no one.
Stop complaining Yankee fans. This was a good year, you just have to want to see it as such.
Read more New York Yankees news on BleacherReport.com