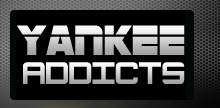 October 19, 2010 · NY Sports Digest · Jump to comments
Article Source: Bleacher Report - New York Yankees
By Tommy Willet
Everyone watching the Yankee game saw Robinson Cano's solo shot into right field early on, as well as the fan interference by a kid named Jared Macchirole that maybesortakinda occured. With it being a crucial game in the ALCS on primetime television, which means the whole world is watching, (except for these guys), one would be safe to assume this would throw the instant replay review conversation back into the national spotlight.
But that's not what we're going to talk about here.
We're talking about THIS GUY
The truth is, as a fan of the New York Yankees, I totally feel the exact same way Jared Macchirole does…but that doesn't make him any less of a douche. Does anyone else get the feeling we'll see this kid as a guest star on Jersey Shore? Personally, I'd be quite pleased if this kid met Nelson Cruz in a back alley. You think he's flickin him off then?
I actually don't think the prick flipping the bird to Cruz is the funniest part, it's the large man slightly to the right (our right, not douche-kid) clearing just repeating "fuck you, fuck you" over and over. HILARIOUS! I love it. Do we have an award we can give these guys?
Anyway, accoridng to ESPNNewYork.com, Jared Macchirole said "[Cruz] was yelling at me but I wasn't going to say anything." Oh yeah dude. For sure.
The rest of the world will hate it. They'll make the Jeffrey Maier comparison, which is a little unfair, but whatever. Just a little bit later, it looked like we'd have our very own Steve Bartman, but Burnett got the Yankees out of it. And that's the truth about plays like that. Yes, it sucks if a call doesn't go your way. But the play occurred in the bottom of the 2nd inning. There was plenty of time to change the outcome, and if the Rangers couldn't overcome that play, they didn't deserve to be there in the first place.
Go Yankees.
This article originally appeared on The NY Sports Digest. If its off-beat and it's about the Mets, Yankees, Knicks, Giants, Jets, Islanders, or Rangers, than The Digest is the spot to get it. Stop with the mega-sites and get a feel for the true pulse of New York at www.NYSportsDigest.com
Possibly Related Posts:
Read more New York Yankees news on BleacherReport.com