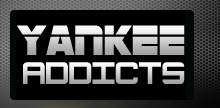 October 23, 2010 · Leslie Monteiro · Jump to comments
Article Source: Bleacher Report - New York Yankees
The New York Post said it nicely in today's paper. In the front page of the newspaper, the headline was "$210 Million Bust."
The paper referred $210 million as the payroll of this Yankee team, but in reality, their payroll is $236 million. For the money the Steinbrenner family doled out this year, they deserved better than a feeble performance by the Yankees in the ALCS.
WFAN's Evan Roberts may think the headline is harsh, but it is not. When the team's mission statement is to go win a championship, anything less than that is a failure.
The Yankees felt they could have a new dynasty with CC Sabathia, A.J. Burnett and Mark Teixeira being the new cornerstone players, along with new homegrown players. It worked for one year, and it should have worked this year.
All season long, this team did not come out ready to play. They looked complacent all season, and that mentality came back to hurt them against the Rangers in the ALCS.
It's been amusing how folks analyze the Yankees' woes. We have a writer at this site who talked about how it's all about the Yankees, not the Rangers. Face the facts. The Rangers were the better team than the Yankees.
Did the Rangers outplay the Yankees? You betcha. They out-pitched and out-hit the Yankees. Rangers manager Ron Washington out-managed the alleged genius Joe Girardi.
The Rangers played with more spunk and passion than the Yankees did. This should never happen to a team that boast such a plethora of talent.
It says about the leadership on the Yankees. Where was the manager this entire series? Where was Alex Rodriguez and Mark Teixeira? Was there a guy who could take the lead?
Rodriguez resorted to his typical October failures. Teixeira has been a waste of money in his two years with the Yankees. Jeter looks washed up. Nick Swisher was exposed as a fraud.
Girardi acted like he had the answers. He is so smug and arrogant that one would think he invented the game of baseball.
It wasn't Girardi's finest moment in the ALCS. He mangled the starting rotation by using Phil Hughes for Game 2 when Andy Pettitte was better in that role. Then he used David Robertson in relief for an elimination game that the Yankees were not out of last night.
It is amusing to see this considering Yankee bobo Michael Kay promised everyone that Girardi would out-manage Washington.
It's one thing to get beat, but it's another thing to play badly and go meekly. Who knew the Yankees would play like the Minnesota Twins in the playoffs?
Good thing for the Yankees that George Steinbrenner passed away. Even better, Steinbrenner was not what he used to be even when he was alive. If this was theSteinbrenner of yesterday, everyone would be called out, and odds are Girardi would lose his job.
George's sons are a different breed. Yes, they will spend and buy players, but don't expect them to get worked up about it. Maybe Hank Steinbrenner would, but he is no longer running the show. He is busy helping unfortunate kids.
Hal Steinbrenner is not his father. He is into winning, but he is not going to be as crazy as his father. That is sending the wrong message. Hal's laid-back approach means complacency, and that's something that can kill a franchise.
Complacency killed the team this year. Girardi did not have this team ready at times, and the attitude of resting players threw many of them off. It showed in the final two weeks of the season.
He rested his players for two reasons. One, he wanted his team to face the Twins in the best-of-five series. Two, he wanted his guys healthy in October.
Giradi's supporters will talk about how it worked because the Yankees swept the Twins, but the Twins should not be a measuring stick to Yankees' success. The Twins were not a great team to begin with.
Also, the idea of resting guys is stupid. Guys are not going to be healthy at this point of the season. During a long season, players get fatigued, and they play with broken bones. Resting guys is not going to change that.
The Yankees were better off playing for the division. Maybe if they did, they would have beaten Texas in the best-of-five.
The stars talked about how they were hungry for more rings. It didn't happen this year. Guys got old or hurt. That has to be troubling in the next few years.
Who know what the Core Four can do? They are not getting younger. At some point, age will catch up to them. The Yankees are fortunate it hasn't so far.
Also does anyone trust Girardi to win more than one championship? He wasn't great last year. He wasn't good this year. If this writer had his way, he would be fired, but the Yankees are committed to him for whatever reason.
Really, how hard is it to manage the Yankees, when they can buy so much talent every year?
This year was a year of regrets.
If there is anything good that came out of this, we don't have to read Kay's stupid predictions or thoughts this October. We are better off after the gem he provided about the Rangers being done after Game 1.
Read more New York Yankees news on BleacherReport.com