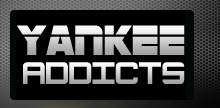 February 10, 2013 · Doug Rush · Jump to comments
Article Source: Bleacher Report - New York Yankees
This week, spring training will begin for all of baseball.
Pitchers and catchers for the New York Yankees will report to Tampa on Tuesday in preparation for the 2013 season.
One of the topics that has been brought up for this upcoming spring training is the possibility of the Yankees switching two of their outfielders.
For the last three years, Brett Gardner has been the team's left fielder while Curtis Granderson has been the center fielder.
Gardner was switched to left after the team made the three-team deal with the Arizona Diamondbacks and Detroit Tigers just shortly after the Bombers won the 2009 World Series that landed them Granderson.
Mark Simon of ESPN New York talked to both Yankees manager Joe Girardi and general manager Brian Cashman about the move and said they would consider it for 2013.
It would make sense for the Yankees to make the swap and shift Gardner back over to his normal spot that he originally came up with the team at in center.
First, Gardner is faster than Granderson and can cover a little more ground than him. I am in no way saying that Granderson is slow by any means because he isn't; but Gardner is in fact that fast.
Second, Gardner is a Gold Glove-caliber fielder who saves a ton of runs in the field when he's healthy. Now, I'm not saying Granderson is a terrible fielder and he has made a lot of great plays in the field for the Yankees in the past three years.
But Gardner is just an overall better fielder, and I'm actually surprised that Gardner has not won a Gold Glove yet with the Yankees.
What Granderson has over Gardner is hitting, and clearly, Granderson is more valued for his power and ability to drive in runs.
But this isn't about who hits where in the lineup, this is about which outfield spot the two play.
Putting Granderson in left won't diminish his value as a player, but Granderson is about to turn 32 this coming March with a year left on his deal.
Someone turning 32 isn't going to get any younger or faster in the field, and that's a position that teams in baseball want speed with; especially since you're covering so much ground in the field.
By taking over and playing well in left field, maybe the Yankees decide to bring back Granderson after 2013, especially considering their outfield prospects are still a few years away from getting the call.
Besides, Granderson in left field would be better than some of the other options the Yankees used in left last season with the departed Raul Ibanez and Andruw Jones.
When Granderson was first traded for, we all debated the topic of where the team would put Gardner and Granderson, especially after the Yankees traded Melky Cabrera to the Braves and let Johnny Damon leave as a free agent to the Tigers.
Before 2010, the Yankees decided to keep Granderson in center and move Gardner to left and that's how it's been for the last three years.
Now, three seasons later, the same discussion before the spring has come up again. However, I think it's time the Yankees moved Granderson to left and put Gardner back in center.
Ultimately, it will make the Yankees a better and stronger team in the outfield, and with Ichiro Suzuki now in right field instead of Nick Swisher, the Yankees will have an even better defensive outfield in 2013.
And given how respectful of a player Granderson is, I don't think he'd let his ego get in the way of switching his position at this point of his career.
In the end, moving Gardner and Granderson would make the most sense in 2013.
Read more New York Yankees news on BleacherReport.com