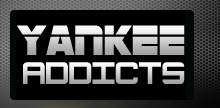 April 29, 2010 · Leslie Monteiro · Jump to comments
Article Source: Bleacher Report - New York Yankees
Oriole Park at Camden Yards opened up in 1992.
It was the resurrection of baseball in Baltimore as well as for the rest of the country.
Back then, other teams wanted their 'Taj Mahal' of a stadium. Fans can go see new ballparks in any place of the country.
In our town, we have couple of new ballparks, a new hockey arena, a new football stadium, and a new soccer stadium.
The thought was new stadium would mean new revenue. New revenue would mean winning championships.
That hasn't worked in sports. Losing teams continue to lose, and successful teams can't get a championship.
The Orioles had it going for awhile. When their jewel of the ballpark opened up, they had winning seasons. It wasn't long until they became a World Series contender.
When Davey Johnson was hired in 1995, the Orioles took off by going to the American League Championship Series in 1996 and 1997. Unfortunately, Johnson and Orioles owner Peter Angelos never got along.
That was the demise of the Orioles. It didn't help the Yankees played a role in this.
Not only did Jeffery Maier help the Yankees quashed the Orioles' World Series dreams in 1996, but the Yankees started spending money to the point where it was hard for the Orioles to keep up.
It's easy to go rip Angelos.
For the average fan, they don't need to worry about how other team does business. Making a blank statement is something any knothead can do.
It makes them look smart when that's not the case, in reality.
Angelos actually spent money just to keep up with the Yankees and the Red Sox, but that did not work for him. Now, he decided to allocate his money towards building a farm system.
Who knows if that's going to work out? The Orioles farm system is steering toward the right direction thanks to the fine work of Andy MacPhail.
The problem is it may not be enough for them to go to the playoffs.
The Rays pulled it off couple of years ago by going to the World Series, but if the Yankees did not have injuries, it's a good bet the Red Sox and the Yankees would have made the playoffs and the Rays would have not participated in October.
Right now, the Rays are doing well, but that's not going to last. The Yankees are going to continue to play well, and the Red Sox are getting their act together.
Look for Boston to make the necessary improvements this summer. The Rays don't have the money to do so.
Like the Rays, the Orioles can't keep up with the big boys in that division.
To blame Angelos is short-sighted. He is doing the right thing, but it's not going to work well.
This is why the Orioles need to move to another division. If they were in the AL Central, they would likely be contending and the glory days of the 1990s would be alive and well.
It's hard to blame Orioles fans for not going to the games at Camden Yards like they used to. They know it's a lost cause.
Obviously, they're not happy with Angelos, but those people also know the problem that is going on with baseball. It's hard to win in this economic climate.
Even if the young players do well, the Orioles can't afford to keep them. Most of them would rather leave for greener pastures.
Who can blame them? They will get paid more and they would have a chance to be on national television more often.
Why should Orioles fans be excited about this situation?
In New York, we like to think we are above this, but let's be real. If some other team overspent and New York teams can't keep up, we wouldn't be going to the game either.
Let's not brag about how great we are, especially when there are empty seats at Madison Square Garden in recent years with couple of crappy teams that play there.
Orioles fans should be commended for wisely saving their money, but Yankees fans and Red Sox fans infest that beautiful place.
There are more cheers for the Yankees and the Red Sox than the Orioles at Camden Yards. This happens when a couple of northeast teams come to Baltimore for the AL East games.
It makes this person want to puke.
Growing up as a kid, this was unheard of. Baltimore made sure that place was pro-Oriole back then. Sure, we would see some Yankees fans, but that was few and far between.
There was nothing worse than seeing Yankees fans clap and cheered when A.J. Burnett mowed down the Orioles tonight and Robinson Cano clubbed home runs in the fourth and eighth innings.
It's sad come to think of it.
It won't get any better either.
Read more New York Yankees news on BleacherReport.com