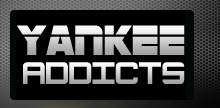 March 10, 2012 · Doug Rush · Jump to comments
Article Source: Bleacher Report - New York Yankees
Yankee fans were holding their breath when they heard the news on setup man David Robertson.
Robertson hurt his foot while unloading boxes at his spring training home in Florida and the New York Yankees were awaiting the news of his MRI.
On Friday, the organization could breathe a major sigh of relief, as David Waldstein of The New York Times reported through his Twitter account that Robertson's injury was not a serious one, being a bone bruise.
Girardi says David Robertson has a bone bruise on top of his foot. In boot until Sunday and then comes back as he can tolerate pain

— David Waldstein (@DavidWaldstein) March 9, 2012
Waldstein talked to Yankees manager Joe Girardi, who said Robertson will be in a walking boot through the weekend, and then will begin throwing again soon, a long as he can tolerate some discomfort.
Losing Robertson for any significant period of time would have been a bad way to start the 2012 season, as Robertson is a key member to the Yankees bullpen.
With the 2012 season potentially being the last one of Mariano Rivera's career, the Yankees may start to groom Robertson to be the team's next closer.
But since the injury is just a mild one and nothing serious, the Yankees can breathe a little easier, and not have to make any drastic moves during spring training.
They will be without Joba Chamberlain, who is still recovering from Tommy John surgery and likely won't be back until June. Likewise for new Yankee reliever David Aardsma, who is also recovering from the same surgery and should be back in the summer.
The Yankees are also without Pedro Feliciano, who has been shut down for most of his tenure as a Yankee with shoulder problems. The team is hopeful Feliciano can make a September appearance, if everything goes to plan.
The Yankees got bit by the bullpen bug last year, which propelled Robertson into the setup role, which turned out to be a blessing for the team.
Losing him early on would have been a disaster. But now, it's a disaster the Yankees can avoid.
Yankee fans all over can breathe a little easier, as their All-Star reliever should be just fine for the start of the 2012 season.
Read more New York Yankees news on BleacherReport.com