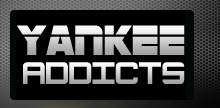 June 7, 2009 · A.J. Martelli · Jump to comments
Article Source: Bleacher Report - New York Yankees
The New York Yankees once again put on a late-inning show on Sunday afternoon.
Down 3-1 in the bottom of the eighth inning, the Yanks batted around and scored three runs against the Tampa Bay Rays, going on to beat them by a score of 4-3.
It was the 20th time this season the Yankees have come from behind to beat their opponent, and the fifth time this season the Yankees have won a game when trailing after the seventh inning.
Hideki Matsui knocked in the go-ahead run, bouncing into a fielder's choice allowing Alex Rodriguez to cross the plate to give the Bronx Bombers the lead.
Robinson Cano had started the offense in the frame, walking with the bases loaded to score Johnny Damon.
Jorge Posada also knocked in a run in the inning, as he reached on an error by Rays' third baseman Willy Aybar that enabled Mark Teixeira to score from third.
The Yanks' first run came off the bat of Nick Swisher in the bottom half of the third, when he belted his 11th homer of the year, a solo shot that landed in the Yankee bullpen.
The Rays' runs came from B.J. Upton, who doubled in the third to score Reid Brignac, and Gabe Gross, who doubled in the sixth to knock in Aybar and Carlos Pena.
Mariano Rivera bounced back from yesterday's poor outing, slamming the door in the ninth inning to notch his 13th save of the season.
"I'm just glad we won," Rivera told the media after the game.
"We came out to win, and the cutter had more life today, and it was all about determination. I had the opportunity and I didn't waste it."
Earning the win today was Alfredo Aceves, who came on in relief of today's starter Joba Chamberlain.
"Ace did a nice job, but Joba did well, too," Yankees' skipper Joe Girardi told the press.
"Joba threw the ball well, and Ace has just got weapons for all different types of hitters."
Chamberlain lasted six innings, gave up three runs on five hits, walked one, and struck out four.
Meanwhile Aceves pitched the seventh and eight innings, allowing no runs on just one hit. He walked one, struck out four, and now owns a season record of 4-1.
In a match-up of "Andy's" tomorrow night, Andy Pettitte of the Yankees (5-2, 4.33 ERA) will face Andy Sonnanstine of the Rays (4-5, 7.07 ERA).
Media Credit: YES Network, Yankees.com