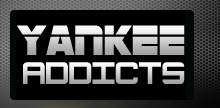 April 7, 2010 · Doug Rush · Jump to comments
Article Source: Bleacher Report - New York Yankees
When the series began between the New York Yankees and Boston Red Sox, they had listed three premier pitching matchups for the fans at Fenway Park to see.
So far, the first two games have come down to a battle of the bullpens instead of the starters.
On opening night, the two starters for both teams didn't have great outings. Josh Beckett didn't even get out of the fifth inning, allowing eight hits, five runs, three walks and two home runs and a 9.64 ERA in four and two-thirds innings.
CC Sabathia started out well, but ran out of gas in the sixth inning, allowing six hits, five runs, walked two and a 8.44 ERA in five and one-third innings.
Both Sabathia and Beckett got no decisions and in the end, it was the Yankees bullpen that gave up leads of 5-1 and 7-5 in the Red Sox 9-7 win.
Mostly, it was Chan Ho Park who got tattooed for three hits and three runs, including allowing a two-run home run by Dustin Pedroia, but Damaso Marte was wild, and Joba Chamberlain got hit hard as well.
On Wednesday night, again, the two starters were ineffective.
Boston's Jon Lester, who usually pitches well against the Yankees, only went five innings, allowed five hits, four runs, walked three, and starts the season off with a 7.20 ERA.
Yankee A.J. Burnett wasn't much better, also going only five innings, allowing seven hits, four runs, walking one and giving up one home run for an ERA of 5.40.
With Beckett and Lester not factoring into the decision, it came down to another battle of the bullpens. Only this time, the Yankees were the ones who were stronger.
Alfredo Aceves pitches two scoreless innings and got the win, David Robertson allowed one hit, Marte got David Ortiz out and Joba seemed to have his velocity back, striking out Adrian Beltre and J.D. Drew to end the eighth inning. Mariano Rivera saved his first of the season in the 6-4 Yankees victory.
While Manny Delcarmen and Daniel Bard pitched well for Boston, Hideki Okajima did not and ended up giving up the go-ahead run and took the loss. Scott Atchinson gave up a crucial ninth inning home run to Robinson Cano, which only helped Rivera in the ninth inning.
Many people expected good pitching with these two teams, but so far it's been the offense that has been slugging away in Boston.
The third and final game of the series will feature Andy Pettitte and John Lackey, another good pitching match, but given what has happened this week, it's tough to tell how this game will go. This game could also come down to another battle of the bullpens if Pettitte and Lackey are victimized by Fenway.
I wouldn't worry too much with Sabathia or Burnett's outings because it's very hard to keep a lead in that ballpark, considering one bad inning could lead into a ton of runs.
The most important things from Tuesday night was getting Joba's confidence and velocity back, which he established with the two strikeouts, and allowing Marte to come back and get outs without being wild again.
As long as the bullpen can find a way to get the ball to Mariano, whether it be Aceves, Marte, Joba, Robertson, the Yankees pitching should be in good shape in 2010.
Read more New York Yankees news on BleacherReport.com