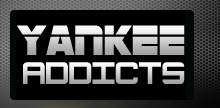 December 23, 2011 · Bill Ford · Jump to comments
Article Source: Bleacher Report - New York Yankees
Over the last few weeks, there has been a great deal of talk about Brian Cashman and the New York Yankees. Many are concerned about the lack of moves since the winter talks, as well as the dead silence from the Yankees.
My first thoughts led me to believe there were no concerns. Other than a few minor tweaks and changes, the Yankees don't seem to need much. Some will disagree with me, especially regarding A.J. Burnett.
Each day, I've tried to keep up with the latest Yankee news from different sources, and nothing I'd read or heard concerned me. The lack of any moves or breaking news made me think that Cashman is content with the current talent.
But now my thoughts and concerns have begun to implode.
Yankee haters love to refer to New York as the Evil Empire. New York has always been accused of taking advantage of its financial power to buy players.
All teams buy their players, but that's another debate. This winter, those same haters are all scratching their heads wondering what's going on. Some complain about it, stating that Cashman is a fool for not making any moves.
More and more, I'm beginning to think that Cashman is up to something. I think that he's put on his poker face.
The Yankees have been known to make some late moves, and this year that worries me. Free agents have been bought up fairly quickly this year so far, but there are still some available. Are they worth making big moves? I don't think they are this year.
The Yankees have three top prospects that many speculate could be on the trading block. In past seasons, NY has been willing to give up top prospects for what was perceived to be top talent. Some trades worked out, and some did not.
Jesus Montero, Manny Banuelos and Dellin Betances are the Yankees' top three prospects. These are the same three that many believe could be traded away. Cashman would make a huge mistake by dealing them away for trades. The Yankees need to learn to take the time for player development.
Montero, Banuelos and Betances are prized possessions, and Cashman should make certain that the New York farm system takes the time to cultivate its talents.
I grew up in the Bronx, so I had never seen a farm until I moved to New Hampshire. Living here, I've watched farmers work hard all year long to cultivate their crops and prepare them to be harvested.
The minor league farm system is the same concept. Take the time to cultivate players, and when the harvest comes they will be top quality.
If the Yankees trade their top prospects away, another team will gain three players with incredible talent. That team will benefit, and the Yankees will regret the move.
I sincerely hope that Cashman isn't up to anything, but as I mentioned earlier, he's put on a poker face.
Read more New York Yankees news on BleacherReport.com